Release Date:

Nov 21, 1997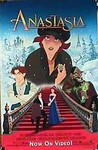 Starring:

Christopher Lloyd

,

John Cusack

,

Meg Ryan

Summary:

From St. Petersburg, Russia to Paris, France, join Anya on an epic journey of breathtaking animated action and intrigue. (20th Century Fox)
Director:

Don Bluth

and

Gary Goldman

Genre(s):

Adventure

,

Drama

,

Animation

,

Family

,

Musical

Rating:

G

Runtime:

94 min
Please enter your birth date to continue:
You are not allowed to view this material at this time.
A gorgeous piece of work. It pulls every heartstring a good romance should, yet bursts with G-rated fun, wonderfully human characters and several solid and hummable songs.

Easily the best non-Disney animated movie in recent memory, and it is good enough to rival such titles as "The Lion King" and "Aladdin."

Flawed but not fatally, this ambitious epic's strength lies not just with its haunting melodies, pretty pictures, star voices and kid-friendly sidekicks - the usual shtick that makes Disney tick. [14 Nov 1997, p.D6]

Lacks the spark of the best recent Disney spectaculars, like "Beauty and the Beast."

Though originality is not one of its accomplishments, Anastasia is generally pleasant, serviceable and eager to please.

A deeply silly movie, but it is sumptuous to look at, and it never stands still. Its creators, Don Bluth and Gary Goldman, have given the story a lilting rhythm and glittering surface of the most extravagant jewel-encrusted fairy tale.

You can set your watch to the musical cues, and the songs themselves are forgettable at best, insipid at worst.
Marvelous! Easily the movie! I am from Russia and I know a lot abour Anasrasia.... May be it si not true , but I think It is the greatest

Marvelous! Easily the movie! I am from Russia and I know a lot abour Anasrasia.... May be it si not true , but I think It is the greatest animation movie has ever been !

…

Expand

This has to be the best Disney movie I've seen, with a good plot, great characters, and catchy songs, who can't love it?

It looks like a Disney knockoff, but not very similiar to Disney. It has great animation, solid voice acting, and very catchy songs. Don Bluth

It looks like a Disney knockoff, but not very similiar to Disney. It has great animation, solid voice acting, and very catchy songs. Don Bluth did a very good job at making this non-disney masterpiece.

…

Collapse

One of my favorite non-Disney/Pixar animated movies. Superb animation. Great voice acting. Catchy and memorable music. While it does take some

One of my favorite non-Disney/Pixar animated movies. Superb animation. Great voice acting. Catchy and memorable music. While it does take some HUGE liberties with history, it is just a story after all. What really got my attention was that this was really the first GOOD non-Disney movie of its time. This level of production for hand drawn animation was almost unheard of and really shook the chains of quality superiority that Disney once held. Overall: A charming and fun animated movie that won't be for everyone, but it has a place in my heart.

…

Expand

THIS IS THE BEST FOX ANIMATED MOVIE EVER!!!! LET'S GRADE THE MOVIE!!!!! Animation: A Characters: B Story: A+ For Kids: Oh my God, Yeah!!!

THIS IS THE BEST FOX ANIMATED MOVIE EVER!!!! LET'S GRADE THE MOVIE!!!!! Animation: A Characters: B Story: A+ For Kids: Oh my God, Yeah!!! Music: A Voice Acting: B Overall: A-!!!!! FINAL GRADE = A-! MY SECOND BEST IS ICE AGE!!!! MY THIRD BEST IS ROBOTS!!!! AND IT EVEN WAS A BOX OFFICE SUCCESS!!! I'M SO GLAD!!!! WE ARE LOVING THIS ANIMATED MOVIE!!!!! WHOOOOOOOOOOOOOOOO!!!!! THERE IS NEVER ANYTHING WRONG ABOUT THE MOVIE!!!!!! THAT'S GOOD!!!!!! THAT'S WHY I LOVE IT!!!!!!!!!!!!!!!!!!!!!!!!!

…

Expand

Films inspired off of factual history are always difficult to produce but this here is a perfect example. Steady story, catchy tunes, good

Films inspired off of factual history are always difficult to produce but this here is a perfect example. Steady story, catchy tunes, good subtle morals, and with no interaction with Disney animation studios. It is a shame this did not get as much recognition as it deserves.

…

Expand

Anastasia is Twentieth Century Fox's response to many of Disney's historically inaccurate, though intellectual animated musicals in the past

Anastasia is Twentieth Century Fox's response to many of Disney's historically inaccurate, though intellectual animated musicals in the past twenty years.

…

Expand