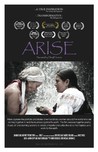 Summary:

Weaving together poetry, music, art and stunning scenery to create a hopeful and collective story, Arise looks at the extraordinary women around the world who are coming together to heal the injustices against the earth.
Arise always feels unified, a genuinely felt and executed womanist letter to the world.

Despite an impressive global scope and admirable ethnic diversity among the interview subjects, the central thesis that women are leading the charge on green issues receives nothing but anecdotal support.

The mother-daughter filmmaking team's doc reads more as a feature-length infomercial for the many organizations it highlights—all of which are more than deserving of the attention—than a probing look at what it means to be at one with our planet in the 21st century.

Unfortunately, the power of the message is diluted by the pedestrian filmmaking, with the overall effect resembling a compendium of public service announcements.