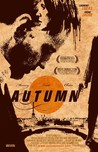 Summary:

Jean-Pierre (Lucas) is a troubled hit man starting to realize he has too much conscience to kill. Having recently rekindled his relationship with his childhood soul mate Michelle (Jacob), he sees their love as a way out. But when he learns that she has stolen a mysterious briefcase,

Jean-Pierre is forced to walk a fine line between protecting the woman he loves and falling back into the world of crime he just left -- a task that soon unravels in ways that he can neither imagine nor control. (Truly Indie)

…

Expand
Director:

Ra'up McGee

Genre(s):

Drama

,

Crime

Rating:

Unrated

Runtime:

110 min
Autumn is actually pretty damn good. It's a defiantly odd work, a movie-movie set more in the crime-film Paris of Jean-Pierre Melville or Jacques Becker or early Godard than in the real 21st century city.

Enamored of all things French and noir, American director Ra'up McGee has written a love letter to both.

The film is visually mannered and full of posing and longueurs. But it is stylish, very French (despite its American origins) and diverting if well short of brilliant.

Francophile film buffs and obsessive deconstructionists might be amused, but less indulgent auds will find derivative pic artificial and mannered.

The twists and reversals that pile up, stirred by greed, friendship and betrayal, fail to register any meaning, simply accumulating -- so that ultimately Autumn is as dry and lifeless as the leaves that fall to the ground in its opening images.

For all the precision shooting, Autumn is a colossal misfire, a tedious film noir wannabe. It doesn't even qualify as film gris.