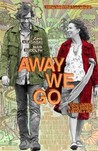 Starring:

Allison Janney

,

John Krasinski

,

Maya Rudolph

Summary:

Longtime (and now thirtysomething) couple Burt and Verona are going to have a baby. The pregnancy progresses smoothly, but six months in, the pair is put off and put out by the cavalierly delivered news from Burt's parents Jerry and Gloria that the eccentric elder Farlanders are moving out

Longtime (and now thirtysomething) couple Burt and Verona are going to have a baby. The pregnancy progresses smoothly, but six months in, the pair is put off and put out by the cavalierly delivered news from Burt's parents Jerry and Gloria that the eccentric elder Farlanders are moving out of Colorado – thereby eliminating the expectant couple's main reason for living there. So, where, and among whom of those closest to them, might Burt and Verona best put down roots to raise their impending bundle of joy? The couple embarks on an ambitious itinerary to visit friends and family, and to evaluate cities. (Focus Features)

…

Expand
Director:

Sam Mendes

Genre(s):

Drama

,

Comedy

,

Romance

Rating:

R

Runtime:

98 min
Please enter your birth date to continue:
You are not allowed to view this material at this time.
Like "Juno" or "Little Miss Sunshine," Away We Go is a small film, the kind of gem that's easy to crush with hype or overpraise. But, the fact is that few movies deal with feelings this profound with as much restraint as Mendes and his crew display here.

Though Away We Go lacks the screwball unpredictability of something like "Flirting With Disaster," it compensates with a unexpected depth of feeling, a novelist's (or memoirist's) sense of detail, and a panoramic view of what home means.

Away We Go is not as dramatically wrenching as "Revolutionary Road," but it's unquestionably more enjoyable.

Though it's nice to see Mendes take a looser, not quite so studied approach to his filmmaking, some stops along the way -- like a detour to visit Burt's suddenly single brother (Paul Schneider) -- feel dramatically off-course.

See it for the performances – they are delights from the leads on down to the characters in the episodic vignettes. But the film's vision of Gen-Y nesting is liable to leave you up a tree.

It's in these vignettes that Away We Go begins to feel less like an authentic exploration of identity than a condemnation of the very community the couple pretends to crave. No one, it turns out, is good enough for Burt and Verona.
Krasinski and Rudolph are on my Oscar-watch.

2 hours of sweet, true fun.

We really enjoyed this movie. It's a bit slow to begin but you end up loving the journey. It's quirky for sure and has some very

We really enjoyed this movie. It's a bit slow to begin but you end up loving the journey. It's quirky for sure and has some very funny moments. Well worth 2 hours of your life.

…

Expand

hilarious and touching. as the parent of two young kids, it seems like there are very few healthy examples of parenting which means

hilarious and touching. as the parent of two young kids, it seems like there are very few healthy examples of parenting which means you're on your own. This movie takes that idea to the extreme and gets big laughs from me.

…

Expand

It's not great, but it's not bad. It's just good. Maya Rudolph does a fantastic job, while Jon Krasinski definitely

It's not great, but it's not bad. It's just good. Maya Rudolph does a fantastic job, while Jon Krasinski definitely doesn't disappoint. The vignettes with the other couples are funny (mostly because they're true) and sad (again, mostly because they're true). If you're a fan of somber comedies like Garden State or Last Kiss, then you'll enjoy this.

…

Expand

Flat uninspired writing made worse by desperate acoustic soundtrack. Eggers makes an entire generation look even more repugnant than they

Flat uninspired writing made worse by desperate acoustic soundtrack. Eggers makes an entire generation look even more repugnant than they already are. The movie also has an expiration date of mid-2008, pretending that a freelance medical illustrator and fake insurance salesman are economically stable. If real, this couple would currently be found in the aisles of their local food pantry. Beyond a comeuppance for the Boomers, the recession is cosmic retribution for Gen Y's entitled, precious self-regard. But hey, that kid will get her Huck Finn-ey childhood fishing for her supper when there's no money! How authentic!

…

Expand

A truly nauseating waste of time. The characters are all jerks, esp the wife. People keep telling her she is beautiful, but there's no

A truly nauseating waste of time. The characters are all jerks, esp the wife. People keep telling her she is beautiful, but there's no way. I left the theatre after an hour. Pure bilge.

…

Expand