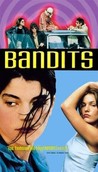 Starring:

Jasmin Tabatabai

,

Jutta Hoffmann

,

Katja Riemann

,

Nicolette Krebitz

Summary:

Four female felons in a southern German jail form a band and get the opportunity to perform at a police ball outside of the prison. The four escape and become famous outlaws when their demo is aired by a local radio station.
Unruly girls around the world are liable to find these Bandits stealing their hearts.

Equal parts big-house B-feature, hammer-down road movie, post-feminist consciousness-raiser and rock & roll pipe dream.

(Katja von Garnier's) talent makes this original film exciting and moving, a raucous ride.

For film buffs who want to see what's hot in Germany, Bandits is probably worth the price of a ticket. Those looking for action, drama, or rock 'n' roll may find the mix less than satisfying.

Basically a feature-length rock video from Germany with appealing performers, decently written characters, a killer score, and an interesting premise.

A confused mess of music video montages drowns out the rest of the action, depicting the foursome in a variety of sexy romps that clash with the plot.

Dim and eye-rollingly foolish -- Call it Dumb, Dumber, Dumber Still, and Dumbest.