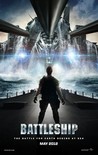 Director:

Peter Berg

Genre(s):

Action

,

Adventure

,

Sci-Fi

,

Thriller

,

War

Rating:

PG-13

Runtime:

131 min
Please enter your birth date to continue:
You are not allowed to view this material at this time.
Battleship is a sound vessel floating in Hollywood's oil-slick sea of "Transformers" sequels and vampire riffs.

The nicest touch is that Battleship has an honest-to-God third act, instead of just settling for nonstop fireballs and explosions, as Bay likes to do. I don't want to spoil it for you. Let's say the Greatest Generation still has the right stuff and leave it at that.

Those looking for big, loud sci-fi action will find plenty to like here as director Peter Berg (Hancock, Friday Night Lights) pumps up the volume on clashing military hardware and flag-waving heroics.

Overlong and underwritten even by the standards of summer f/x extravaganzas, this Battleship will nonetheless float with many on the strength of its boyish, eager-to-please razzle-dazzle.

What's the word on the film debut of Rihanna, playing a sass-mouthed petty officer? Dreadful (ella, ella).

If only there were more genuine rah-rah fun involved, instead of just endless, thudding, seen-it-all-before mayhem.

The worst humans-fighting-aliens movie I've ever seen. And I've seen a lot of humans-fighting-aliens movies.
If you have never seen this movie, do not listen to these reviews. Battleship was an amazing movie and now one of my favorites. If you are

If you have never seen this movie, do not listen to these reviews. Battleship was an amazing movie and now one of my favorites. If you are that dumb and you cannot follow the story then just go watch Barney or something and stop discouraging people from watching good movies. Yes, their is a bunch of scenes in the movie that do not make sense 'IN REAL LIFE' but this is not real life, this is a movie. So if you want to watch an action packed movie about the US Navy destroying an alien invasion with few plot twists but still good ones then watch this movie.

…

Expand

SO many bad reviews but decent movie overall.
Yes part of the story sucks cos aliens are coming, Pentagon knows but rest of army doesn't andSO many bad reviews but decent movie overall.
Yes part of the story sucks cos aliens are coming, Pentagon knows but rest of army doesn't and have no idea!
Good effects...
Rihanna = Good singer; bad actor...

…

Expand

Just watched the movie with my kids and surprisingly considering all the negative reviews, had a blast. It is what it is . A well made over

Just watched the movie with my kids and surprisingly considering all the negative reviews, had a blast. It is what it is . A well made over the top ridiculous action movie with some very funny moments. It doesnt pretend to be anything else unlike a movie such as Prometheus which was pretentious garbage in my opinion. Check brain at door and just go with it. Taylor Kitsch and Rihanna are both very good and the supporting cast is for the most part good too.

…

Expand

Expectation: moderate, mostly predictable story revealed in fx heavy trailers

Delivery: As a movie fan, I've developed thick skin towardsExpectation: moderate, mostly predictable story revealed in fx heavy trailers

Delivery: As a movie fan, I've developed thick skin towards the typical bad boy turned hero, military propaganda, token Black characters, the hard as nails woman, and characters who, during action scenes, blurt out catch-phrases like talking stuffed animals, but Battleship has waaaay too many of these infractions to ignore. Its common to have to suspend belief to accept some movie plots, but Battleship asks you to leave some brain cells at home and lock your common sense in the car. Too many coincidences put the characters in position, and the all too familiar "screw up who loves the bosses daughter but has to win the boss over by unlocking his true potential, proving himself to said boss" set up. This crappy setup makes it harder to except the pretty exciting cgi fest that follows. Battleship is worth a matinee or a weekend rental. Lower your expectations, turn off your common sense and Battleship will make for a moderately enjoyable popcorn flick

…

Expand

Let's get straight to it, Battleship is a bad bad film. Taylor Kitsch was greatly mocked for starring in this film and John Carter, two of

Let's get straight to it, Battleship is a bad bad film. Taylor Kitsch was greatly mocked for starring in this film and John Carter, two of 2012's lesser acclaimed releases but I don't think he can shoulder too much of the blame here. Battleship's faults lie almost solely at the feet of the writers, Jon and Erich Hoeber.

The script is riddled, absolutely riddled with stinking dialogue and the while obviously a certain amount of disbelief is required to even consider watching a film of Battleship's ilk, the plot has some laughable moments. I don't know which was worse, watching a previously decommissioned battleship being started up by a crew of geriatric veterans in no time at all, seeing said ship perform a handbrake turn at full speed by dropping anchor, the cringe-worthy references to The Art of War or seeing Rihanna try to act. Her speech about her father's alien prophecy is the stuff of nightmares. Thankfully for his sake, Liam Neeson's performance as the isolated Fleet Commander is limited.

I was sceptical of how the film might incorporate anything resembling the Battleship game, but the night battle using educated pot-shots at grid references in the style of the board game actually worked reasonably well. The enemy, or more importantly, its odd passive-aggressive, your turn-our turn behaviour, is conveniently never explained.

I know the film is supposed to be action-led, fun and O.T.T. and visually director Peter Berg does nothing wrong but most of the action is pretty stationary and quite repetitive and there is only so much you can forgive a terrible script. Come back Michael Bay, we forgive you for Transformers!

…

Expand

I will be brief with this review of Battleship, because there's absolutely nothing worth discussing in this film. The premise and screenplay

I will be brief with this review of Battleship, because there's absolutely nothing worth discussing in this film. The premise and screenplay for this movie was already bad, but director Peter Berg drives this film below the ground. Box office poison Taylor Kitch, True Blood's Alexander Skarsgard, Hottie/singer Rihanna along with the rest of the cast give a collectively dismal performance. Battleship was an empty barrel, riddled with cliches and disdainful dialogue. The dialogue in this was so terrible, one of the characters in the movie had to stop and ask, ' Who talks like that?'. This movie has rightfully been compared to the Transformers films (in fact it was worse), but at least Transformers had exemplary technical elements. Do yourself a favor and skip this one.

…

Expand

This review contains spoilers, click expand to view.

SPOILER ALERT: THERE'S EXPLOSIONS AND AN ALIEN INVASION!!!!!! That's all there is to it. If you're brain-dead, then you might enjoy this Hollywood headache.

…

Expand