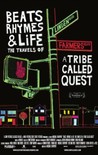 Summary:

Michael Rapaport sets out on tour with A Tribe Called Quest in 2008, when they reunited to perform sold-out concerts across the country, almost ten years after the release of their last album, The Love Movement. As he travels with the band members, Rapaport captures the story of how tenuous

their relationship has become; how their personal differences and unresolved conflicts continue to be a threat to their creative cohesion. When mounting tensions erupt backstage during a show in San Francisco, we get a behind-the-scenes look at their journey and contributions as a band and what currently is at stake for these long-time friends collaborators. (Sony Picture Classics)

…

Expand
Director:

Michael Rapaport

Genre(s):

Music, Documentary

Rating:

R

Runtime:

95 min
Poignant and powerful, complex and melancholy, the film ends with rehearsals for yet another money-grubbing comeback tour.

Like "Anvil!," Sacha Gervasi's 2008 documentary about two lovable, bickering metalheads, Beats, Rhymes & Life is a music documentary with a buddy-movie heart.

Thanks to a particularly even-handed job by director Michael Rapaport, the story emerges as compelling, even for non-fans in the audience.

Though it may not have much of an audience beyond the band's fan base, it offers enough context to serve as a primer on the hugely influential Native Tongues clique and should have life on home-vid.
Unless you don't like A Tribe Called Quest or you're uninterested in Hip Hop and Rap history, you have no reason not to see this. This movie i

llustrates the timeline of A Tribe Called Quest from highs to lows. It's a fresh documentary that will certainly put a smile on your face. The only problem with this documentary is the lack of explanation. For example, lack of music construction. While, yes, there is Q-Tip explaining how this or that song started with this or that loop, but outside of that, there isn't really much. Which is a shame because A Tribe Called Quest had some of the best loops and whatnot. Nonetheless, this is a documentary for all. Highly recommended if you were into 90's Hip Hop and Rap. 9/10

…

Expand