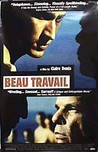 Starring:

Denis Lavant, Grégoire Colin, Michel Subor

Summary:

The soldiers of a small French Foreign Legion outpost spend their days practicing drills and exercising. Sergeant Galoup seems to be the perfect Legionnaire: a brooding, young loner who runs his troop efficiently until Sentain, a new recruit, arrives and threatens to upset the balance of h

is world.

…

Expand
Director:

Claire Denis

Genre(s):

Drama

Runtime:

90 min
A ruggedly beautiful landscape of desert and sea provides a dramatic setting for a psychological drama told with the utmost rigor--and unabashed eroticism.

If only Beau Travail had a more dramatic edge, this nicely done film wouldn't have felt so long.
A stunning, melancholy film. Easily one of the best of the decade.

Beautiful. And that ending..... elusive, yet unforgettable. One of the best concluding sequences I've ever seen.

Brooding, plodding, self-conscious and silly. This is a caricature of a French art film. It goes nowhere for an hour and a half while the pro

tagonist poses and smokes lots of cigarettes. In a word: merde.

…

Expand
Even in a year where the directing Oscar went to a woman for the first time, female filmmakers still don't receive the recognition that their male counterparts do. We look at the top women directors and their films, including the two best-reviewed live-action films of the summer.

Published:

December 17, 2009

Our best of the decade coverage continues with a look at the past ten years in cinema. While the decade's best-reviewed movie may not have been a commercial blockbuster (or even in English), our lists turn up plenty of recognizable names in addition to obscure gems you may have missed.