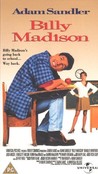 Starring:

Adam Sandler

Summary:

Billy Madison (Sandler) is the heir to the Madison Hotel millions but in order to win his father's respect, and his Fortune 500 company, grown-up goof-off Billy must repeat all 12 grades of school ' in just 24 weeks. (Universal)
Director:

Tamra Davis

Genre(s):

Comedy

,

Romance

Rating:

PG-13

Runtime:

89 min
Please enter your birth date to continue:
You are not allowed to view this material at this time.
There are a few bursts of sheer, irresistible idiocy -- along the lines of "Wayne's World" or even "Pee-wee's Big Adventure"-- but not enough to sustain the more arid stretches.

It succeeds as a reasonably smart no-brainer. If you've ever had a yen to relive the third grade, this must be the next best thing.

A more kid-friendly version of "Dumb and Dumber." And there's even a moral: "Yahoo for education," though the movie doesn't really put any muscle behind it.

The film should have featured more absurd and nonsensical elements. Certainly the plot is ridiculous, and so completely illogical that to see it fall by the wayside in favor of some inspired lunacy would not have been a loss.

Okay, a couple of sniggers sneak out, but on the whole the effect is stone cold.

A sorry excuse for a movie, and director Davis (CB4, Guncrazy) and star Sandler should be very embarrassed.
It's a travesty this movie is in the bottom 100.

This movie was hillarious! It's a shame that critics think that this was a bad movie, because they need to get the stick out of their ass!

The movie was one of the best comedy movies ever made, period. This movie is still funny today, regardless of cheesy acting and randomness in

The movie was one of the best comedy movies ever made, period. This movie is still funny today, regardless of cheesy acting and randomness in the film. At least it somewhat had a plot and was successful at being funny, which was it's main purpose. I frigging learned about Hamlet though this movie and witnessed one of the best scenes in a movie, Billy Madison's final speech in the "marathon", or whatever it was called.
Anyways, 10/10

…

Expand

A quite good movie with a dorky actor. It is a corny movie for the most crude. Many references to male body parts that are just plain gross

A quite good movie with a dorky actor. It is a corny movie for the most crude. Many references to male body parts that are just plain gross and not funny. This movie is basically what you would expect from a movie with Adam Sandler as a dorky adult goof-off.

…

Expand

Everyone loves Billy Madison. So what if it's mindless entertainment? Not everything has to be "brilliant."

Liked it much better back when I smoked pot in my younger days. Would have given it higher then (no pun intended). Still provides good laughs

Liked it much better back when I smoked pot in my younger days. Would have given it higher then (no pun intended). Still provides good laughs at ridiculous, couldn't-be-true situations that are still very funny. Sometimes I think they make critics take an oath to be stodgy. This movie requires you to lighten up to enjoy. Maybe the critics should try an herbal remedy.

…

Expand