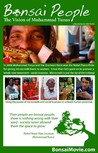 Summary:

What if you could harness the power of the free market to solve the problems of poverty, hunger, and inequality? To some, it sounds impossible. But Nobel Peace Prize winner Muhammad Yunus is doing exactly that. Bonsai People celebrates Yunus' extraordinary humanitarian work, which started by

What if you could harness the power of the free market to solve the problems of poverty, hunger, and inequality? To some, it sounds impossible. But Nobel Peace Prize winner Muhammad Yunus is doing exactly that. Bonsai People celebrates Yunus' extraordinary humanitarian work, which started by lending $27 to 42 people out
of his own pocket and has now grown to helping 1 out of every 1,000 people on Earth. Yunus has created a mirror image of conventional banking—loan small not big, loan to women not men, loan rural not urban, loan to the poor not the rich. But he didn't stop there. Whenever he sees a problem he starts a business, in a mix between
business and social work, which he terms "social business." Yunus tackles some of the world's most vexing problems from healthcare to education to alternative energy and demonstrates to the world that complex problems sometimes do have simple solutions. A free market with a social conscience—-Microcredit is just the tip of the iceberg! (Hummingbird Pictures)

…

Expand
Director:

Holly Mosher

Genre(s):

Drama

,

Documentary

,

News

Rating:

Not Rated

Runtime:

90 min
By making the movie as much about the women as Yunus and his theories, the filmmaker brings a sense of balance to Bonsai People that would have been easy to lose given the international economist's long and much-honored career.

In the end, it feels unavoidably dull, as there isn't much thematic ambiguity to be found in the assertion that humans deserve life that's defined by more than indentured servitude.

Ideal only for the junior-high classroom, Holly Mosher's dull-as-dishwater documentary fudges the line between socially progressive message-spreading and suspicious hagiography in its celebration of Bangladeshi economist Muhammad Yunus.

Unfortunately, the documentary's impact is mitigated the benefactor's constant presence and paternalistic, infomercial-like exposition.

The result is a movie that feels more like a free-market sales pitch than like a critical look at one weapon in the poverty-fighting arsenal that may or may not offer long-term hope.

Yunus would seem to be a prime candidate for a movie about his work. Unfortunately, director Holly Mosher's by-the-numbers documentary Bonsai People isn't the answer.