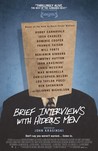 Starring:

Julianne Nicholson

Summary:

Based on the book by David Foster Wallace, Brief Interviews with Hideous Men is a darkly funny and disturbing exploration of men and their complex relationships with women. A graduate student endeavors to explore the male psyche for her thesis by interviewing a cross-section of men. The

Based on the book by David Foster Wallace, Brief Interviews with Hideous Men is a darkly funny and disturbing exploration of men and their complex relationships with women. A graduate student endeavors to explore the male psyche for her thesis by interviewing a cross-section of men. The men's twisted and revealing stories are juxtaposed against the backdrop of her own experience. As she begins to listen closely to the men around her, she must ultimately reconcile herself to the darkness that lies below the surface of human interactions. [IFC Films]

…

Collapse
Director:

John Krasinski

Genre(s):

Drama

,

Comedy

Rating:

Not Rated

Runtime:

80 min
Please enter your birth date to continue:
You are not allowed to view this material at this time.
One hell of a date movie. A surgical examination of the male psyche based on David Foster Wallace's book and written and directed by John Krasinski, there is plenty of food for thought and argument.

Raises the question of whether Krasinski made this movie because he really loves Wallace's work, or because just he wanted to show Hollywood that the loveable doof from The Office can actually act.

In his directorial debut, Krasinski doesn't seem to believe in his hideous men so much as he appears intimidated by them.

If we learn nothing else about Krasinski as a filmmaker, it's that he thinks more is more.

It's a very academic movie about academics that belongs in academia, not movie theaters.

Faced with the unenviable choice between honoring his daunting inspiration and telling his own story, the director shoots straight down the middle -- and misses both targets.

As a film, Brief Interviews With Hideous Men is a disaster.
A script that drawls out and does not do the book justice. John Krasinski's character comes out of nowhere and his direction makes the movie

A script that drawls out and does not do the book justice. John Krasinski's character comes out of nowhere and his direction makes the movie take an hour and a half longer than it hast to be,

…

Expand