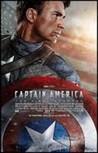 Starring:

Chris Evans

,

Hugo Weaving

Summary:

Captain America: The First Avenger will focus on the early days of the Marvel Universe when Steve Rogers volunteers to participate in an experimental program that turns him into the Super Soldier known as Captain America. (Paramount Pictures)

Director:

Joe Johnston

Genre(s):

Action

,

Adventure

,

Sci-Fi

,

Thriller

Rating:

PG-13

Runtime:

125 min
It gives you all that you could ask for when you buy a ticket to a thrill ride.

The most stylish comics-derived entertainment of the year...It's paced and designed for people who won't shrivel up and die if two or three characters take 45 seconds between combat sequences to have a conversation about world domination, or a dame.

Captain America is exactly what the third week of July needed: a curiously fun, surprisingly imaginative and unashamedly old-fashioned yarn of skulduggery and adventure.

On its own, Captain America is a modestly engaging little-big movie in the median range: well below the first "Iron Man," somewhat above "X-Men: First Class."

Captain America falls into the prevalent pitfalls of origin stories. So much time and effort is expended explaining how the protagonist gains his super-powers (and exploring his initial usage of them) that there's not enough opportunity to develop a compelling storyline beyond his "baptism."

Tommy Lee Jones provides wisecracking levity as Rogers's commanding officer, Hayley Atwell supplies the aforementioned buxom chest and accompanying tough-girl grit as Rogers's British love interest, and Johnson directs with flair, his set pieces defined by both muscularity and clarity.

(A) hokey, hacky, two-hour-plus exercise in franchise transition/price gouging, complete with utterly unnecessary post-converted 3-D.
I go to the movies almost every week, some weeks I go more than once. I must say this summer has been full of disappointments. I was getting

I go to the movies almost every week, some weeks I go more than once. I must say this summer has been full of disappointments. I was getting so upset at all the big summer movies being ok at best, but then Captain America comes along and blew me away! The movie moves at a fantastic pace with the right mix of action, comedy, drama and romance to interest almost everyone. This is one of 4 movies this summer that is movie perfection. With Super 8 and X-Men out of theaters and since everyone has seen Harry Potter then this is the movie to see. I couldn't have liked it more!

…

Expand

This review contains spoilers, click expand to view. I don't know anything about Captain America going in, never watched the trailer or the comic books, but i gotta say, this movie makes me very interested in Captain America and is now considering to buy the comic books as i'm writing this. This movie is REALLY good. Before i watched it, i thought it was just going to be some war movie that is super boring, but it surprises me how interesting this is. It starts of with the smaller version of Steve Rogers. they did a GREAT job on the CGI effect of 'small' Chris Evans. you can hardly tell that it is CGI and most of the time, i thought that they just hired a Chris Evans look-alike to play him. He looks very real.

They also did this thing where they poke fun of the cheesy Captain America. it's like they know that Captain America is cheesy, so they just play along with it, giving reasons to why it is so cheesy. and it all makes sense. the character had comic books and films based on him, which is like real life, making an interesting connection.

Steve Rogers (Captain America) is an interesting character. all he ever wanted to do is to serve his country despite his size, which is the reason why he wasn't accepted as a solider. he is very courageous and is willing to sacrifice himself to save others.

Captain America is also part of this Marvel Cinematic Universe thing where many films are linked together and is just giving the back story so that people will have the context to understand the Avengers movie. there are some interesting connections. like Howard Stark, the father of Tony Stark(Iron Man) is working with the military and is the super-awesome-weapon-and-technology-developer of this movie. he reminds me of tony stark, but not as much of a womanizer as him. at the start of the film, they show the modern day and Captain America is discovered, being frozen for 70years(like in the comics) and at the end of the movie, it continues with the modern day story and he is being recruited by S.H.I.E.D.S. After the credits, they showed a stinger, which all of the Marvel Cinematic Universe films have if you haven realize by now, and after that, THEY SHOWED A TEASER TRAILER FOR THE AVENGER! its like Back to the Future 3 again for me, a trailer after a movie.

they follow pretty well with the comic book, i guess. they had the original design for the shield first, before the circular one, which is pretty cool.

they also have this romance between our hero and a female officer(Peggy) which apparently is the aunt of Sharon Carter from the comics. i think the romance will expand to Sharon in the Avengers now that he is in Present Day. I say that is because the romance between Steve and Peggy is pretty much of a tragedy. they only shared one kiss! it is pretty heartbreaking to watch them part at the end when Captain America 'died'. and when bucky(steve's best friend) die too.

the first half of the film is very good. it takes its time to show the origin of Captain America and also the rise of the villian(Red Skull). then the second part of the film kicked right into the action, connected by a montage of a cheesy Captain America touring as a celebrity, poking fun at the character. and Stan Lee's cameo is in this montage too.

the reason why i gave it a 9 instead of a 10 is because that they didn't focus much on the villain Red Skull, and he died at the end too. they did focus on him to a certain degree, but after he peeled off his skin literally turned into the Red Skull, they stop focusing on him that much. i am more of a villain guy, so i may be biased on this one, but i'm sure many comic book fans wants to see more of this Red Skull. so this movie doesn't focus much on the villain but much more on the hero, which is what it should be. i agree that they should show more of the villain, but i also disagree with myself because this is a Captain America movie, they did the right thing by focusing more on the hero, i feel more attached to the character after watching the movie.

overall, this is a GREAT movie, go check it out. can't wait for The Avengers.

…

Expand

While some I did find some of the action to be a bit too "montage" like, Captain America: The First Avenger is the best comic book movie of

While some I did find some of the action to be a bit too "montage" like, Captain America: The First Avenger is the best comic book movie of the summer thanks to it's excellent cast, thrilling action, and appealing script.

…

Expand

Captain America is a fairly standard Marvel origin story, but on the more competent end of the origin story scale along with Iron Man rather

Captain America is a fairly standard Marvel origin story, but on the more competent end of the origin story scale along with Iron Man rather than the incompetent end with Ghost Rider. It's got all the entertainment you've come to expect from Marvel summer blockbusters derived from slick storytelling, creative action and a sprinkling of humour. What lifts Cap up above the rank-and-file is it's satire of wartime propaganda and patriotism. Easily one of the strongest sequences is when the Cap receives his first mission, not action scene to test his newly acquired powers as one might expect, but a song-and-dance tour to keep American hearts and minds (and wallets) in support of the war. The film does have drawbacks - not least of which is a common one amongst superhero origin stories, that is to say a pretty rubbish villian. Poor old Hugo Weaving does his best as really nasty Nazi Red Skull, but does little but scheme and gurn behind a big red face. That's what the villain in an origin story has to do, unfortunately, merely provide enough of a challenge to create spectacle, but not be too difficult for the hero to best - it's only the first chapter in their story afterall. The Cap's other chief problem is really Marvel's - rather than dedicating a whole film to introducing one of their biggest stars, they chose to share the runtime between Captain America and the origins of the Avengers, hence the title: The First Avenger. So it's part origin and part prequel to next year's super-fantastic-wonder-team extravaganza. Dispite these drawbacks, the film is still very, very fun. Some nice action, effects and humour keeps the film moving, and Evans makes a likeable protagonist. It really is quite an achievement to make such a goody two-shoes so likeable, the Cap really has always been quite a bland character (not a personality defect in sight!) maybe it's just Evans' effortless boyish charm. Stanley Tucci, Hayley Attwell and Tommy Lee Jones in usual authoritarian grouch mode, in addition to Alan Silvestri's big, brash and brassy score also add to the quality of the film. So Captain America is a perfectly decent period superhero flick, and you're sure to have a good time watching it. It's not exceptional, but that's mostly because origin stories rarely are, and Marvel just seems to want to pack everything they do at the moment with knowing fan-boy nods to The Avengers.

…

Expand

This is a succesful movie. The fight scenes were cool and the visual effects were outstanding.. But other than this movie is pretty. But there

This is a succesful movie. The fight scenes were cool and the visual effects were outstanding.. But other than this movie is pretty. But there are a few cliches which makes the plot pretty prrdictable from the time to time but that doesn't effect the movie in a big way.

…

Expand

The film was absolute garbage. It didn't take long to realize that they weren't going to cough up any good dialogue, so I hoped that at least

The film was absolute garbage. It didn't take long to realize that they weren't going to cough up any good dialogue, so I hoped that at least the combat would be okay --- It wasn't. The good guy just walks into a nazi base and punches lackey after lackey and throws his shield at them a few times (It comes back...? Okay... Wow none of them shot you while you waited for it to come back! Nice!) There was no tension at any moment, no doubt that his strategy of simply beating the bad guys up would have to be re-thought. The fact that this movie has such high reviews is indicative of the times. People don't want substance, they want a clear, simple to follow plot.

…

Expand