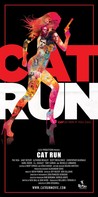 Summary:

Anthony always dreamed of being a famous chef. Julian only thought about women. With neither really working out, the childhood best friends decide to start a detective agency. Unfortunately for them, on their first case they must help protect a sexy, high class escort who holds the key

Anthony always dreamed of being a famous chef. Julian only thought about women. With neither really working out, the childhood best friends decide to start a detective agency. Unfortunately for them, on their first case they must help protect a sexy, high class escort who holds the key evidence to a scandalous cover up. The two bumbling detectives soon find themselves running from the mob, a corrupt US Senator, and a ruthless Mary Poppins-like assassin - all of whom would stop at nothing to hide the truth. It's just an average day for two bumbling losers. (Lleju Productions)

…

Expand
Director:

John Stockwell

Genre(s):

Action

,

Comedy

Rating:

R

Runtime:

102 min
Please enter your birth date to continue:
You are not allowed to view this material at this time.
Though John Stockwell's action comedy is shamelessly derivative, his enthusiastic cast propels it much further than it should go.

Words like "smug," "derivative," and "shallow" could all be fairly applied to the film, but as a piece of late-night exploitation, it delivers the violence and nudity with the regularity of an IV drip, and some familiar faces in the cast help class it up.

Falls squarely into the a-family-needs-to-eat category, because there is a careless lack of attention about the whole thing, something that could be perceived as smugness if the film didn't feel so haphazard and lazy.

Janet McTeer, at least, delights as MI6's cruelly capable answer to Mary Poppins. She's a whiz at testicular vivisection, yet she still cannot save this film.

This low-rent, R-rated "Rush Hour"-ish comic caper could have been several notches better with more charismatic leads and some dialogue upgrades but still would have felt like a genre hand-me-down.

It's simply one wearisome '90s crime-cinema cliché after another.

Inside the dreadful action comedy Cat Run, there are about three terrible action comedies struggling to get out.