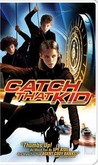 Starring:

Jennifer Beals

,

Kristen Stewart

,

Sam Robards

Summary:

They are specialists in their fields: a rock climber, a computer genius, a mechanical whiz. Their task: to rob one of the world's most impenetrable banks to save an ailing father. Their plan is foolproof; their methods are ingenious. And they're not old enough to drive. (20th Century Fox)
Director:

Bart Freundlich

Genre(s):

Action

,

Adventure

,

Comedy

,

Crime

,

Family

Rating:

PG

Runtime:

91 min
Please enter your birth date to continue:
You are not allowed to view this material at this time.
Cast and crew have a blast making a family movie that spoofs its James Bond-like premise, is jam-packed with action, sweaty-palm suspense and adventurous, high-tech fun effects, and yet never loses its at-the-core heart and sympathies.

While this Kid isn't up to "Spy Kids" standards, the good news is the film hews closer to the high-concept kids' movies of the 1980s than to all that Disney Channel goo that's been repackaged for the big screen lately.

Flatters its audience by dividing the grown-up world into mean idiots and nice idiots, which might be interestingly subversive if the movie had anything on its mind. Instead, it's just a Hollywood crash course: Heist Films 101.

This heist flick is far more likely to drive audiences away than catch and keep anyone's interest in the title kid -- or more accurately, kids.

The plot of this PG action thriller, a remake of the 2002 Danish film Klatretosen, is so full of holes that even middle schoolers might give it the raspberry, but a bigger problem is the three leads' lack of on-screen chemistry.

Offers little in the way of originality, real excitement or even genuinely transgressive behavior.

A stale, overbudgeted, child-empowerment fantasy that's every bit as excruciating as the director's previous work.
Incredible. Absolutly loved it.