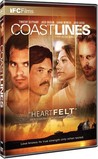 User Score
tbd
No user score yet- Be the first to review!
Summary:

Sonny Mann (Olyphant), an ex-con returning home from prison, creates a new dynamic for both friends and enemies with his arrival. (IFC Films)
Director:

Victor Nunez

Genre(s):

Drama

Rating:

R

Runtime:

110 min
It's only a mild disappointment. The talent is still there, the film better than most. It just needs less crime, more love.

A melodramatic step backward for writer-director Victor Nunez after his last two pictures, the first-rate "Ruby in Paradise" and "Ulee's Gold."

There is energy to this film that is somewhat different from Nunez's others. Along with a terrific cast, Nunez keeps the action driving forward: dangerous, sexy, and conflicted.

A larger problem is the film's attempt to piece together a hard-boiled crime drama with a soft-boiled soap opera, ultimately giving precedence to the suds and adding a sickly lemon scent.