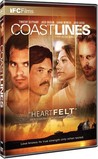 Summary:

Sonny Mann (Olyphant), an ex-con returning home from prison, creates a new dynamic for both friends and enemies with his arrival. (IFC Films)
Director:

Victor Nunez

Genre(s):

Drama

Rating:

R

Runtime:

110 min
It's only a mild disappointment. The talent is still there, the film better than most. It just needs less crime, more love.

It's a heartfelt movie that could have used a zigzaggier undercurrent, though Olyphant, in the sort of role that Paul Newman used to swagger through, has a star's easy command.

Lacks the subtle power of the previous two efforts, although boasting effective performances from its terrific cast.

A larger problem is the film's attempt to piece together a hard-boiled crime drama with a soft-boiled soap opera, ultimately giving precedence to the suds and adding a sickly lemon scent.

That love triangle is Coastlines' center. Trouble is, it plays more like canned heat than blazing inferno.

Nunez gets nice performances from his cast, but his narrative is cluttered.

For fans of Nunez's previous work, it's almost as if he put in all the clichés he would normally avoid and left out the wonderfully textured internal moments that made "Ruby" and "Ulee's Gold" unique.