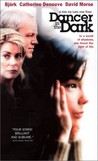 Starring:

Björk

Summary:

Bjork stars as Selma, a Czech immigrant and single mother working in a factory in rural America. She is losing her eyesight and her 10 year-old son stands to suffer the same fate if she can't put away enough money to secure him an operation. (FilmFour)
Director:

Lars von Trier

Genre(s):

Drama

,

Musical

Rating:

R

Runtime:

140 min
Please enter your birth date to continue:
You are not allowed to view this material at this time.
I was astonished to find myself weeping copiously over von Trier's latest, which is another parable of monomaniacal sainthood.

This deliriously downbeat vehicle for the postpunk diva Björk has generated the controversy the Danish dogmatist has relentlessly court.

If it weren't for a terrific central performance by the Icelandic pop singer Bjork, Dancer in the Dark would be all but unwatchable.

This is the kind of movie that has always polarized serious film folk, while the public usually elects to stay home and prune shrubs.

So exasperating in its contradictions, so frustrating in its fakery, so deeply irritating in its pretensions, it's frankly hard to know where to begin to dissect it.
Dancer in the Dark is one of my favourite films ever. I cannot help but cry every time I watch it. The excellent performance by Bjork

Dancer in the Dark is one of my favourite films ever. I cannot help but cry every time I watch it. The excellent performance by Bjork (surprisingly excellent, might I add) and the genius direction of Lars von Trier work perfectly to make one of the best films that have graced the film screen. Intensely disturbing, yet intensely gratifying and rewarding.

…

Expand

One of the best movies Ive ever seen by far. A total masterpiece. Definitely recommend this movie.

[maybe spoilers] Spectacular movie. Spectacular performances. Had this been done by a major famous Hollywood director, it'd be up for an

[maybe spoilers] Spectacular movie. Spectacular performances. Had this been done by a major famous Hollywood director, it'd be up for an Oscar - if anything for Bjork's wondrous lead performance. One thing that bothers me most about the critics giving poor reviews (20s, 30s, 40s) is that they blame it on the depression. "This si 2.5 hours of pure depression," or "the climax: with death row unendurable." It bugs me cause THATS WHAT THE MOVIE IS! It's supposed to be gut-wrenching, and heart-wrenching. It's supposed to make you cry. Make you feel. Make you hate it. It drains you mentally and emotionally, and, sometimes, physically. It's not unendurable though, cause you need to see what happens to her. And then that last song and it's pure misery backing it up - it really gets to you. And when it gets cut off.... one of the most depressing and best endings I've seen to a movie. Though probably the most depressing movie I've ever seen, and probably one of the most depressing movies EVER MADE... it's incredibly well done and it ranks among my favorites.

…

Collapse

A stunningly emotive film, as true to life as it wants to be. The morale, " They say it is the last song / They don't know us, you see /

A stunningly emotive film, as true to life as it wants to be. The morale, " They say it is the last song / They don't know us, you see / It's only the last song / If you let it be" is one to live your life by.

…

Expand

Emotive and artistic. This is a Master piece, i dare to say it's the best film Von Trier has ever made.
Björk becomes in a lovely mother thatEmotive and artistic. This is a Master piece, i dare to say it's the best film Von Trier has ever made.
Björk becomes in a lovely mother that wants the best for his son... but we're not used to watch sad movies, may tear your heart appart.

…

Expand

"Dancer" is one of the most thought-provoking, heart-wrenching films of the decade. It's a work of art that demonstrates that film as a

"Dancer" is one of the most thought-provoking, heart-wrenching films of the decade. It's a work of art that demonstrates that film as a medium, is still capable of evolving. "Bambi" may have been voted the saddest film ever, but surely, "Dancer" makes a mockery of any such list.

…

Expand

A movie that will tear your heart apart - that is if you don't tear your eyes out first. It's too bad, because Björk showed so

A movie that will tear your heart apart - that is if you don't tear your eyes out first. It's too bad, because Björk showed so much promise as an actress in the beginning - but by the end her performance just relies on viewer sympathy and nothing else. To give it some credit, the musical sequences are very well done on their own, but they have no stylistic place in this movie

…

Expand