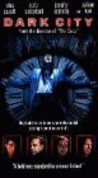 Starring:

Jennifer Connelly

,

Kiefer Sutherland

,

Rufus Sewell

Summary:

Alex Proyas directs this futuristic thriller about a man (Sewell) waking up to find he is wanted for brutal murders he doesn't remember. Haunted by mysterious beings who stop time and alter reality, he seeks to unravel the riddle of his identity. [New Line]
Director:

Alex Proyas

Genre(s):

Sci-Fi

,

Mystery

,

Thriller

,

Crime

Rating:

Not Rated

Runtime:

100 min
Please enter your birth date to continue:
You are not allowed to view this material at this time.
If you don't fall in love with it, you've probably never fallen in love with a movie, and never will.

It is as cool and distant as the planet the Strangers come from. But, Lord, is Dark City a wonder to see. [2 March 1998]

Full of provocative concepts, but, like most films that attack such metaphysical concerns head-on, things have become a tad too jumbled by the end to be altogether satisfying. It's a problem built into the subject matter...This all said, Dark City is immensely entertaining, as well as visually dazzling.

An almost really good movie...risks leaving the viewer feeling like one of the bewildered automatons that move through the plots.

[Proyas] hasn't yet learned how to enliven his characters as fully as his sets. Part of this is structural (somnolence is built into the script), but the greater fault lies with Proyas' direction of his performers, most of whom deliver their lines in a strangulated whisper.

Hurt and Sewell are both quite believable as their respective characters, while Sutherland's performance is lacking in more than a few catagories.

One reason this production-design vehicle is so incredibly boring is that the characters keep having to explain the plot to one another.
great sc-fi film, really interesting. the plot isnt too complex, and they tell you wants happening. the acting is good, although i didnt like

great sc-fi film, really interesting. the plot isnt too complex, and they tell you wants happening. the acting is good, although i didnt like Kiefer Sutherland character at first but he grew on me. (spoiler ahead) [[a nice twist, that i wasnt expecting.]] i highly recommend it, can think of anything wrong with.

…

Collapse

Fantastic visuals that still look good even compared to todays standards. I Have no complaints it is what it is, a piece of good inspired

Fantastic visuals that still look good even compared to todays standards. I Have no complaints it is what it is, a piece of good inspired artwork. What more could you want?

…

Expand

This review contains spoilers, click expand to view.

It isn't one of those science fiction movies that can be overlooked. It has better effects than The Matrix yet no one gives it the same credit. The movie is extremely fast paced and gives you almost no chances to breathe. The plot can be very confusing but it is very well done. I find it one of the best.

…

Expand

Great movie. Two of my biggest gripes about the movie are supposedly going to be fixed in the director's cut (which should hopefully be

Great movie. Two of my biggest gripes about the movie are supposedly going to be fixed in the director's cut (which should hopefully be released soon): - The unnecessary intro at the beginning which ruins the plot. - The shallow exploration of many of the ideas in the movie (Proyas stated that the director's cut adds a good 10-20 minutes of extra scenes that further develop and explore the plot and story).

…

Expand

Though Dark City starts off terribly with poor acting and a disorienting pace, the movie improves vastly as it goes along, and eventually

Though Dark City starts off terribly with poor acting and a disorienting pace, the movie improves vastly as it goes along, and eventually becomes a deep, engrossing film (with amazing acting) that was entertaining and thought-provoking. However, do not think this means the film spares any expense to deliver thrilling action and graphics that, despite looking terrible now, were amazing at the time of release and do not throw off the movie even now. Overall, I recommend it to science fiction fans, particularly those who loved the themes and cinematic elements of The Matrix Trilogy, as this movie is very similar in both (though slightly poorer with the graphics since it was released before The Matrix).

…

Expand

Dark City is fascinating for those who can enjoy a good nature documentary or travelogue. The sets, shooting, and effects are all well-done

Dark City is fascinating for those who can enjoy a good nature documentary or travelogue. The sets, shooting, and effects are all well-done and it is refreshing to see something from the pre-CG era. Dark City is not particularly dark or scary but has a rather curious (a la Alice in Wonderland) and, at times, campy vibe. The style is noir, the city looks European, Jennifer Connelly is stunning, William Hurt lends a bit of gravitas -- all this makes for a very odd mix that is very interesting and dream-like. The ending is quite silly and the film does have many of the flaws other reviewers point out, but these are all outweighed by the things Dark City does right.

…

Expand

Although some of the thematic elements are pretty intriguing, "Dark City" is significantly held down by its rather silly stylistic elements

Although some of the thematic elements are pretty intriguing, "Dark City" is significantly held down by its rather silly stylistic elements and some hit or miss writing.

…

Expand