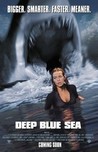 Director:

Renny Harlin

Genre(s):

Thriller

,

Horror

Rating:

R

Runtime:

105 min
Please enter your birth date to continue:
You are not allowed to view this material at this time.
Deep Blue Sea gives good rush -- earning its stripes as one terrific junk movie.

An example of how expert action filmmaking and up-to-the-minute visual effects can transcend a workmanlike script and bring excitement to conventional genre material.

One of the few big-fish horror films that still has the power to surprise.

Powered by exceptional displays of physical filmmaking, Deep Blue Sea is pulled back to shore by the usual suspects -- weak plotting and weaker dialogue.

One of those stupid movies that are good to relax with.

A preposterously silly bit of work, chock-full-o' nuts and rife with the kind of plot holes you could drive a submersible ROV through.

The disgraceful script is by Duncan Kennedy, Donna Powers, and Wayne Powers. Directed with occasional flashes of nasty wit by Renny Harlin.
Perfect movie for a scream.

With this interesting story i was prepared for the best shark movie(since jaws) but the CGI effects were horrible and it was not scary at

With this interesting story i was prepared for the best shark movie(since jaws) but the CGI effects were horrible and it was not scary at all.The good point is the performances from Thomas Jane,Samuel.L Jackson and LL cool J

…

Expand

The only flick anybody can compare this too is Jaws, but come on, that movie was made 30 years ago.

You won't be giving it a standing ovation but you will have a jolly good hour and a half of CGI sharks and Samuel L Jackson.

A pretty decent Jaws wannabe. Some OK performances from Samuel L. Jackson & LL Cool J. Overall: An entertaining popcorn horror, nothing

A pretty decent Jaws wannabe. Some OK performances from Samuel L. Jackson & LL Cool J. Overall: An entertaining popcorn horror, nothing special but OK if you don't take it too seriously and enjoy it for what it is.

…

Expand

This review contains spoilers, click expand to view.

The plot is ludicrous and the script terrible but if you are happy to be swept along for the ride Deep Blue Sea offers an hour and a half of mindless B-movie fun. Plus Samuel L Jackson gets eaten by a shark about half-way through as well.

…

Expand

This movie is so bad that after viewing it I felt extreme pain.The pit in my stomach is so large I cannot describe it. Please don't watch

This movie is so bad that after viewing it I felt extreme pain.The pit in my stomach is so large I cannot describe it. Please don't watch this. Please. I am currently experiencing thoughts of suicide.

…

Expand