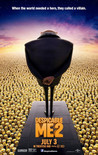 Director:

Chris Renaud

and

Pierre Coffin

Genre(s):

Adventure

,

Sci-Fi

,

Comedy

,

Crime

,

Animation

,

Family

Rating:

PG

Runtime:

98 min
Please enter your birth date to continue:
You are not allowed to view this material at this time.
An animated sequel that, despite not achieving the inspired lunacy of the first movie where Gru literally steals the moon, is smartly calculated to deliver squeals to kids and amusement to accompanying adults.

While I remain disappointed that the sequel gives me a subdued Gru and an uneven pace, I keep remembering things about Despicable Me 2 that make me smile. For every meh moment, there's almost 2 well-conceived gags or lines.

This loony 'toon is dizzy with wonderments, especially in 3-D. The spindly-limbed character design owes more to Charles Addams' family than to Walt Disney's kingdom, while the story and settings evoke James Bond on laughing gas.

A too-good Gru is a boring Gru. No matter how much you crank up the adorability factor or offer up the occasional laugh, there is no getting around that.

Nothing here to challenge anything from the Pixar golden age, but Despicable Me 2 is a sweet-natured family film.

The script's jumble of plot asides and family-friendly pandering is enough to make you want to root for a hero.
The movie is extremely funny and cute and the minions are hilarious! It is one of the best animated movies ever and though it may have a thin

The movie is extremely funny and cute and the minions are hilarious! It is one of the best animated movies ever and though it may have a thin plot the movie is enjoyable for all ages and sure to be a BIG hit.

…

Expand

this movie is so funny, great to watch with a family and friend. but in the middle or movie, its little bit boring.
its was superhero moviethis movie is so funny, great to watch with a family and friend. but in the middle or movie, its little bit boring.
its was superhero movie with a good animation. next year you can see minion movie

…

Expand

An Incredibly cute ending along with hilarious, entertaining, and very heart-warming moments and the extra moments with the minions doing

An Incredibly cute ending along with hilarious, entertaining, and very heart-warming moments and the extra moments with the minions doing silly antics all throughout the film including during the end credits are what make Despicable Me 2 just as good as the original!! While the original is still fantastic and I liked the villain a lot better in the first Despicable Me movie, I still enjoyed Despicable Me 2!!
It will be one those movies that I will add to the items that I wish to have on Christmas!!
I still really liked it and I would actually like to see the film again either in the theatre, on Blu-Ray as rental, or even after I receive this movie on Blu-Ray 3D as a Christmas gift on Christmas or even after I buy this film on Blu-Ray 3D after Christmas for post-Christmas Shopping!!
I would rate this film a 9.95/10 on a 10-star scale!! On a 5-star scale...I would rate this film a 4.95/5..on a Letter Grade Scale from A+ to an F...I would rate this film an A Grade!!!!

…

Expand

I took my family to see it and we all loved it; even my three year old sat still through the entire thing. The minions are hilarious and Gru

I took my family to see it and we all loved it; even my three year old sat still through the entire thing. The minions are hilarious and Gru is a more likable character this time around. definitely recommend this one to any fan of animation.

…

Expand

It's so amusing to watch and despicable to watch. Despicable Me 2 will let some of the laughter you'll pull out waste it all for the movie...

It's so amusing to watch and despicable to watch. Despicable Me 2 will let some of the laughter you'll pull out waste it all for the movie... and then there are some moments that'll enjoyable as well.

…

Expand

Fun. Especially if you see it with a theater full of kids. Plenty to keep the adults entertained as well. Lots of laugh out loud moments. The

Fun. Especially if you see it with a theater full of kids. Plenty to keep the adults entertained as well. Lots of laugh out loud moments. The minions make the movie as you'd expect.

…

Expand

Although this is a film intended for children, who aren't exactly the best at judging whether or not a film is good, I still believe that they

Although this is a film intended for children, who aren't exactly the best at judging whether or not a film is good, I still believe that they should be held against the same scale as other films. with that out of the way, I will now say, this film was, in a word, awful. the plot was boring and bland, the protagonist, Gru, is now boring and flat, and the minions are only there to provide cliched comic relief. there are better ways to spend your money than on this film.

…

Expand