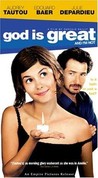 Summary:

France's reigning sweetheart Audrey Tautou ("Amelie") plays Michele, a flaky fashion model with a spiritually searching nature. (Empire Pictures)
Please enter your birth date to continue:
You are not allowed to view this material at this time.
If these two can figure out a way to love each other, maybe it isn't necessary for us to like them very much.

The far too whimsical God Is Great, I'm Not leans heavily on the charms of Audrey Tautou -- As adorable as Tautou is, miracles are beyond her.

Tatou IS adorable, but Michele is a such a brainless flibbertigibbet that it's hard to take her spiritual quest at all seriously, and if you don't feel in your heart that she's really TRYING to grow and mature as a spiritual person, then who cares about her idiotic antics?

A grating cycle of squabbles, sloppy kissing, and rapprochements.

Far from great, and this off-putting French romantic comedy is sure to test severely the indulgence of fans of "Amélie."