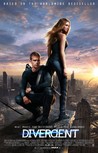 Starring:

Jai Courtney

,

Kate Winslet

,

Shailene Woodley

,

Theo James

Summary:

In a world where people are divided into distinct factions based on human virtues, Tris Prior is warned she is Divergent and will never fit into any one group. When she discovers a conspiracy by a faction leader to destroy all Divergents, Tris must learn to trust in the mysterious Four and

In a world where people are divided into distinct factions based on human virtues, Tris Prior is warned she is Divergent and will never fit into any one group. When she discovers a conspiracy by a faction leader to destroy all Divergents, Tris must learn to trust in the mysterious Four and together they must find out what makes being Divergent so dangerous before it's too late.

…

Expand
Director:

Neil Burger

Genre(s):

Action

,

Adventure

,

Sci-Fi

,

Drama

,

Romance

Rating:

PG-13

Runtime:

139 min
Please enter your birth date to continue:
You are not allowed to view this material at this time.
The strength of Burger's movie is the fact that a non-reader of Roth's work can enjoy Divergent and not be confused by any aspect of the storyline.

Divergent is less action-oriented than "The Hunger Games" but no less compelling.

Because there's some genuinely great ideas in the film, and some terrific character work, but it's given such uneven attention, alternately languished upon and glossed over, that the portrait Burger creates feels complete without, well, making us feel a whole lot else.

Divergent is a clumsy, humorless and shamelessly derivative sci-fi thriller set in a generically dystopian future.

This society makes no sense except as a metaphor. The social layout of Divergent was supposedly devised so as to maintain peace, but putting people into airtight factions guarantees conflict.

The more you scrutinise the society Roth and these screenwriters have created, the more it seems a chintzily self-designed dystopia whose rules and entire infrastructure are pure cardboard.

In all candor, and with all the amity I can muster, Divergent is as dauntingly dumb as it is dauntingly long.
Definitely a must see movie to see. The Thursday first run show was crowded, and this was people paying $12,25 to see this movie in the Titan

Definitely a must see movie to see. The Thursday first run show was crowded, and this was people paying $12,25 to see this movie in the Titan X theater. I didn't get to read the book, but I enjoyed the storyline of the movie. They picked the perfect actors for the roles! I will definitely go and read the 2nd book to see what will be coming up in the next movie! Don't miss this one. :)

…

Expand

The critics are... unfair! The movie is great! Shailene Woodley is awesome in her role! Yeah, he's not like the book, but the adaptation is

The critics are... unfair! The movie is great! Shailene Woodley is awesome in her role! Yeah, he's not like the book, but the adaptation is better than The Hunger Games adaptation! If you like the books, you have to see the movie! If you love Shailene Woodley, you have to see the movie! The question is... How can't you love her?

…

Expand

It's a must see movie. It's build on the same perception that is presented in The Hunger Games, but it's something more with this one than

It's a must see movie. It's build on the same perception that is presented in The Hunger Games, but it's something more with this one than it's predecesor. Shailenne is a fenomenal actress and this role come to justify just that. Also the rest of the cast are good actors, great play for their characters in the movie. All in all, don't jump this one !!

…

Expand

Tris is no Katniss Everdeen, and Divergent is a better film for not trying to impersonate a similar trilogy. It won't excite the world to the

Tris is no Katniss Everdeen, and Divergent is a better film for not trying to impersonate a similar trilogy. It won't excite the world to the extent of The Hunger Games but this more humble offering is nevertheless exciting, fun and satisfying.

So, yeah if you liked the hunger games, give this one a try, at least we arent bothered with stupid love triangles...

…

Expand

The movie is entertaining enough and there are really talented people involved, but the script is weak and the story in general does not quiet

The movie is entertaining enough and there are really talented people involved, but the script is weak and the story in general does not quiet take off. It is decent and the best thing is probably that there is room for improvement in the upcoming sequels. Just for when you have a couple of hours you don´t know what to do and have seen all the other better films out there.

…

Expand

Shailene Woodley is the worst choice for this movie and this is bad because she is near all the 2 hours . she is so **** dull unlike ashley

Shailene Woodley is the worst choice for this movie and this is bad because she is near all the 2 hours . she is so **** dull unlike ashley judd (the mother) she was awesome . theo james is another bad choice . i only wish they do better next time after they know their roles better . never read the book but its simply great story .

…

Expand

I honestly did not like it. They did not show the important part and not even mention important characters. Dont watch it dont spend your

I honestly did not like it. They did not show the important part and not even mention important characters. Dont watch it dont spend your money. When i saw it it ruined my day.

…

Expand