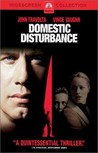 Starring:

John Travolta

Summary:

When a divorced father (Travolta) discovers that his ex-wife's new husband (Vaughn) is not what he claims to be, he realizes that his son's life may be in danger and is determined to save him.
Director:

Harold Becker

Genre(s):

Mystery

,

Thriller

,

Crime

Rating:

R

Runtime:

89 min
Every signifier in this quintessentially American domestic thriller is in satisfying running order.

Travolta, a bit portly (or is it starboardly?), phones in his performance from his place in Maine; Vaughn is ice-cool but not especially convincing; the kid is OK, and Polo is a blank.

The movie is a paid holiday for its director, Harold Becker. I say this because I know what Becker is capable of.

The movie is pure product, and proud of it: There isn't a single surprising moment in all of its 88 minutes, because Domestic Disturbance is designed to stick to tried-and-true formulas, instead of shaking them up a little.

Travolta is stuck giving a remarkable performance in a film so trivial and offensive its mere existence is as loathsome as it is laughable.

The real "disturbance" in Domestic Disturbance is not in the home, but in the careers of all involved.
Great movie! Matthew O'leary is such a great actor and he is SOO HOT!

Ask yourself this, what if you witnessed a crime and no one believed you? Better yet, what if you were a kid when this happened? That is the

Ask yourself this, what if you witnessed a crime and no one believed you? Better yet, what if you were a kid when this happened? That is the premise of this modern day thriller, Domestic Disturbance. It isn't the perfect movie, but the story, while predictable, was still so much fun to watch. As for the cast, John Travolta and Vince Vaughn alone should tell you that you're in for something special. I know a lot of people love Vaughn, I don't, but he was great in this film. Matthew O'Leary, a newcomer back then, seemed as thou he's been doing this for years, acting as the perfect go between and playing his role flawlessly. Domestic Disturbance is fun, exciting, and has an unbelievable cast. Besides the predictability, the only other thing I can say negatively about this film was that it wasn't long enough! I really enjoyed it and didn't want it to end.

…

Expand