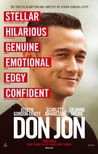 Starring:

Brie Larson

,

Glenne Headly

,

Italia Ricci

,

Jeremy Luke

,

Joseph Gordon-Levitt

,

Julianne Moore

,

Lindsey Broad

,

Rob Brown

,

Scarlett Johansson

,

Tony Danza

Summary:

Jon Martello objectifies everything in his life: his apartment, his car, his family, his church, and, of course, women. His buddies even call him Don Jon because of his ability to pull â
Please enter your birth date to continue:
You are not allowed to view this material at this time.
Gordon-Levitt won't take safe for an answer. So Don Jon tends to stumble as it finds its feet. Still, you leave this movie feeling had at instead of had. The experience is elating.

[A] deceptively sincere movie about masculinity and its discontents that Mr. Gordon-Levitt, making a fine feature directing debut, shapes into a story about a young man's moral education.

In Don Jon Gordon-Levitt hasn't made a great movie. But he has made a fun one, short and sweet, with a third act punch that is so to-the-point it'll take your breath away.

Gordon-Levitt keeps things riotous for the film's first hour, and if he eases into an ending that's a little Hollywood-standard, after having so much fun tweaking form and content, I'm guessing audiences will cut him some slack.

The movie is a broad ethnic comedy, but there's nothing broad about the wicked-smart way it's executed.

Gordon-Levitt is a victim of his own success here. He plays such a convincing cad that we don't believe or invest in his redemption.

Crude, repetitive and rigorously single-minded, the popular actor's writing and directing debut lays it all on a bit thick, as the few points the film has to make are underscored time and time again.
In the end, Gordon-Levitt offers something that is funny, witty, honest and eventually heartfelt, without having to pander to the saccharine

In the end, Gordon-Levitt offers something that is funny, witty, honest and eventually heartfelt, without having to pander to the saccharine fantasies or gross-out raunch humor that have become the two main lanes of rom-com cinema. This is a date movie whose boldness, edge and careful handling of some volatile material truly makes it balanced and engaging to both sides of the gender spectrum. By the time the credits roll, you won't just leave the theater feeling entertained you'll leave with something to talk about. And for a first-timer, crafting a film that gets people talking is quite an accomplishment.

…

Expand

Don Jon shows an interesting view on how we as a society are products of what we watch and see everyday. Gordon-Levitt does an amazing job of

Don Jon shows an interesting view on how we as a society are products of what we watch and see everyday. Gordon-Levitt does an amazing job of illustrating this phenomenon with a great cast and superb writing.

…

Expand

I am a leader in men's groups. I thought this movie was purely excellent and very intelligent. There are many men in the world like the

I am a leader in men's groups. I thought this movie was purely excellent and very intelligent. There are many men in the world like the character Don John, as there are women like Scarlett Johansson's Barbara. The movie is funny at first...quite funny actually...and then it moves into a coming-of-age story for Don John, with his first discovery of what authentic intimacy looks like. Our culture is awash in pornography, and our young men of this generation grow up assaulted by images that distort reality and crassify culture. Jordan Leavitt's film placed a spotlight on this problem without preaching, and gave some welcome guidance as to the way out of that morass if you are a man stuck in that mode. It is an excellent film...look behind the genuine character comedy for the deeper message.

…

Expand

I was thinking the first century of the third millennium where the meaning of cinemas is rewrote. There's been lots of chances we can see and

I was thinking the first century of the third millennium where the meaning of cinemas is rewrote. There's been lots of chances we can see and one of those were the beginning of adult-comedies. Recently 'Ted' made lots of waves among movie goers. So here comes the another one from the actor of '50/50' who also debuted as director. Making first is always challenging one, not many had tasted success but he handled very nicely his crew as well the co stars. It was a nice script based on today's world and the path the youngsters moving.

The story centers around a character Jon who lives by his own principles. He does everything like every other guy like watching porn and masturbating. One day he meets his girl and begin to give his full commitment to it. Sometime he has to break his rules to obtain from opposite, so the remaining portions explais how far he would go and sacrifice his life for a girl.

Definitely it tells the unexpected truth to the older guys who are troubling to understand present technology that affecting people in a strange way. I was talking about online porns and this movie deals about the same theme. The trouble maker in a serious relationship, we can call it a new way of cheating. I believe this movie is not for everyone, if you are okay with adult theme as a comedy then it will be fine. I can call it a rare movie about online porn video addiction.

…

Expand

While some of its more dramatic elements could be executed much better, Joseph Gordon-Levitt's first writer/directorial outing is a successful

While some of its more dramatic elements could be executed much better, Joseph Gordon-Levitt's first writer/directorial outing is a successful comedic drama with an admirable sense of honesty for its subject matter.

…

Expand

Light treatment of a serious problem for too many men. Intimacy with women versus sex with women who have been objectified as sex objects by

Light treatment of a serious problem for too many men. Intimacy with women versus sex with women who have been objectified as sex objects by all forms of media. One benefit of this movie may be a better understanding that, given men's attitudes towards women as sex objects, that women shouldn't take it so seriously and personally if their man watches "some" porn. It's early, learned behaviour and as long as it doesn't become an obsession as it does to Don Jon, it's relatively meaningless.
I thought the dialogue and relationship Don Jon had with Julianne Moore's character was artificial and hard to swallow as real, although it was key to the story.

Worth seeing but could open a can of worms as a date movie. Drive with caution.

…

Expand

I decided to watch this movie based on the casting. This was my mistake. I found it rather pointless and repetitive. Maybe a teenager would

I decided to watch this movie based on the casting. This was my mistake. I found it rather pointless and repetitive. Maybe a teenager would enjoy this film, but I found it rather empty and boring. Sorry, I tried!

…

Expand