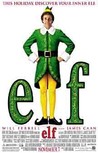 Director:

Jon Favreau

Genre(s):

Fantasy

,

Comedy

,

Family

Rating:

PG

Runtime:

97 min
Please enter your birth date to continue:
You are not allowed to view this material at this time.
It's a terrific movie, smart and funny enough to hold up at any time of year.

How many human beings among us are capable of making a comedy with wit and intelligence that also takes bold pleasure in unabashed silliness? I think this is what happens when you let an elf loose with a movie camera.

Pays homage to a sack of Christmas movies, from the department store Claus of "Miracle on 34th Street" to a standing-on-the-bridge-contemplating-suicide moment, a la "It's a Wonderful Life."

If you're not a fan of Will Ferrell, you ain't gonna like this film. But if you think he's funny and you don't mind a sappy ending, this is a decent holiday flick.

A charming, silly family Christmas movie more likely to spread real joy than migraine, indigestion and sugar shock. The movie succeeds because it at once restrains its sticky, gooey good cheer and wildly overdoes it.

Elf is jolly but could have been jollier, funny but could have been funnier, charming but ... well, point made.

The first and possibly the last Will Ferrell star vehicle. It's a clumsy, tedious ride that wears out its welcome as it wears out the seat of your pants and the circulation in your lower limbs.
GREAT FILM! it was funny and a perfect christmas movie to watch some parts of the movie are just too funny. Will Ferrell plays the part of elf

GREAT FILM! it was funny and a perfect christmas movie to watch some parts of the movie are just too funny. Will Ferrell plays the part of elf really well.

…

Expand

Elf, The Santa Clause, and Home Alone. Those are the three real Christmas classics since 1990. Will Ferrell's performance is so great, it's

Elf, The Santa Clause, and Home Alone. Those are the three real Christmas classics since 1990. Will Ferrell's performance is so great, it's not only a kids movie, but an everybody movie.

…

Expand

Loved it. Christmas movies usually disappoint me, but this one, this one was actually good. The characters are well developed, the plot is

Loved it. Christmas movies usually disappoint me, but this one, this one was actually good. The characters are well developed, the plot is interesting and Will Farrell and Zooey Deschanel make it even better. Very good movie.

…

Expand

Elf is one of those movies that is made or lost by the strength of its lead. Luckily, Will Ferrell plays the role of Buddy with so much energy

Elf is one of those movies that is made or lost by the strength of its lead. Luckily, Will Ferrell plays the role of Buddy with so much energy and passion it's impossible not to like him. While the supporting cast is bland and some scenes fall flat, Elf is an instant holiday classic due to its jokes, which almost always hit bulls-eyes, it's innocent premise, and the warm fuzzy feeling that a good Christmas movie provides.

8.3/10

Follow me on twitter. @cbeers2513

…

Expand

Just wonderful! It has just the correct amount of comedy, emotion, and magic to make it a great Christmas movie to see year in and year out.

Just wonderful! It has just the correct amount of comedy, emotion, and magic to make it a great Christmas movie to see year in and year out. Perfect for the holiday season.

…

Expand

This movie was absolutely painful to watch. The humour is very childish - fart jokes are NOT funny. After cringing for the entire start of the

This movie was absolutely painful to watch. The humour is very childish - fart jokes are NOT funny. After cringing for the entire start of the movie, I ended up walking out because it was so bad.

…

Expand