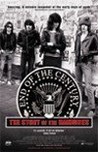 Summary:

This documentary look at the Ramones traces the history of the band, from its unlikely origins, through its star-crossed career, bitter demise and the sad fates of Joey and Dee Dee. End of the Century is a vibrant, candid document of one of the most influential groups in the history of rock.

(Magnolia Pictures)

…

Expand

Director:

Jim Fields

Genre(s):

Biography

,

Music

,

Documentary

Rating:

Unrated

Runtime:

110 min
You can't help but feel conflicted watching this superb documentary about the seminal New York-based punk rock vanguard, the Ramones.

If you feel, like me, kinship with this essential building block of music, you owe it to yourself -- and to the Ramones -- to see this film.

At the picture's best, it recalls Michael Winterbottom's "24 Hour Party People" in its tribute to the music of the times and the way in which that music provided a voice to a generation of social misfits.

It makes for a compelling story and some thrilling music.

While End of the Century feels a bit straggly toward the end (the rise of the Ramones is exhilarating; their slow, unfair demise is a downer), and its chronology is sometimes a little vague, the movie captures the spirit of both the band and the era they helped shape.

A 108-minute film of a two-minute song.