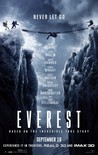 Summary:

Inspired by the incredible events surrounding a treacherous attempt to reach the summit of the world's highest mountain, Everest documents the awe-inspiring journey of two different expeditions challenged beyond their limits by one of the fiercest snowstorms ever encountered by mankind.

Inspired by the incredible events surrounding a treacherous attempt to reach the summit of the world's highest mountain, Everest documents the awe-inspiring journey of two different expeditions challenged beyond their limits by one of the fiercest snowstorms ever encountered by mankind. Their mettle tested by the harshest of elements found on the planet, the climbers will face nearly impossible obstacles as a lifelong obsession becomes a breathtaking struggle for survival.

…

Expand
Director:

Baltasar Kormákur

Genre(s):

Adventure

,

Biography

,

Drama

,

History

,

Thriller

Rating:

PG-13

Runtime:

121 min
Please enter your birth date to continue:
You are not allowed to view this material at this time.
This is a movie you feel deeply in the pit of your stomach. Sometimes, it literally hurts to watch it.

It succeeds wonderfully, offering moviegoers a rare taste of rarified air -- and as compelling an argument as you can make for seeing a movie writ large on the oversized screen of an actual movie theater.

There is no tragic hero here; there is no overarching explanation, but a movie that offered either of those would seem pretty pat. Take it or leave, Everest is just there.

Salvatore Totino's crisp 3D photography and Kormakur's way with a clear, fluid, thrilling action sequence show off the mountain in immensely impressive ways. But the humans involved get short shrift.

A fairly good, extremely grueling movie as far as it goes — tracks the true-life fortunes of a battered group of climbers to the highest place on Earth. Yet somehow it doesn't go far enough.

Everest is visually splendid, though it loses a few points for its murkiness in rendering its main characters as distinct individuals.

The director was Baltasar Kormákur, a gifted filmmaker from Iceland who shouldn't be blamed for a case of industrial filmmaking gone wrong — the culprits in elaborate clunkers like this are usually the producers and the studios.
Everest soars high to great heights, thanks to terrific performances, great and spectacular visual effects, and research to make history come

Everest soars high to great heights, thanks to terrific performances, great and spectacular visual effects, and research to make history come back to life. It would have been better if the film was released on May 2016, 20 years after the disaster. Thanks to 3D VFX and groundbreaking, new generation computer generated imagery, it even makes the audience feel like mountain climbers crossing tough terrain to achieve the near impossible with powerful portrayal of love, loss, bravery and friendship through the viewers eyes.

…

Expand

Great visuals that allow you to join the expedition team that endured such a tragedy without ever noticing the special effects or CGI.

Great visuals that allow you to join the expedition team that endured such a tragedy without ever noticing the special effects or CGI. Wonderfully casted and acted, it's truly a film that keeps you trilled and caring for each individual character and is only topped by the final note that explains this was a true story...Tragic..but a great drama film!

…

Expand

-Everest is a 2015 British-American biographical disaster survival drama film directed by Baltasar Kormákur and written by William Nicholson

-Everest is a 2015 British-American biographical disaster survival drama film directed by Baltasar Kormákur and written by William Nicholson and Simon Beaufoy, starring an ensemble cast which features Jason Clarke, Josh Brolin, John Hawkes, Robin Wright, Michael Kelly, Sam Worthington, Keira Knightley, Emily Watson, and Jake Gyllenhaal. It is adapted from Beck Weathers' memoir Left for Dead: My Journey Home from Everest (2000).

-The film opened the 72nd Venice International Film Festival on September 2, 2015, and was released theatrically on September 18, 2015. It is based on the real events of the 1996 Mount Everest disaster, and focuses on the survival attempts of two expedition groups, one led by Rob Hall (Jason Clarke) and the other by Scott Fischer (Jake Gyllenhaal). Kormákur, Universal, Walden Media, Cross Creek and Working Title dedicated the 3D film to the late British actress Natasha Richardson.

--Filming

-Additional portions of the film, including scenes that take place just above the icefall to camp 3, were filmed at 10,000 feet at Schnalstal/Val Senales in South Tyrol, Italy.

-In November 2013, the film was set for a January 13, 2014 production start date in Italy. Co-financier Brian Oliver told Variety they would shoot in Ötztal Alps in Italy for six weeks, a month in Iceland, and then move to Nepal for another month's shoot. In early January 2014, actors Gyllenhaal and Brolin were practicing for climbing mountains in the Santa Monica Mountains, to train for their roles.

-English actor Clive Standen has said that filming on location in freezing temperatures has been "tough but fun". On March 24, 2014 the shooting was said to be taking place at the Everest Base Camp in Nepal. Base camp exteriors were filmed on the backlot at Cinecitta Studios in Rome, where bright sunlight could be achieved to resemble the lighting at base camp.

--Critical response:

-Everest has received generally positive reviews from critics. On Rotten Tomatoes, the film holds a rating of 72%, based on 195 reviews, with an average rating of 6.7/10. The site's consensus reads, "Everest boasts all the dizzying cinematography a person could hope to get out a movie about mountain climbers, even if it's content to tread less challenging narrative terrain." On Metacritic the film has a score of 64 out of 100, based on 39 critics, indicating "generally favorable reviews".

-Jon Krakauer, author of Into Thin Air, denounced the movie, stating some of its details were fabricated and defamatory. He also expressed regret regarding Sony's rapid acquisition of the rights to the book. Director Baltasar Kormákur responded, claiming Krakauer's first-person account was not used as source material for the film and alleging that Krakauer's version conflicted with actual events.

…

Expand

A capably made action-adventure film featuring good special effects, beautiful cinematography, fine characterizations and some genuinely

A capably made action-adventure film featuring good special effects, beautiful cinematography, fine characterizations and some genuinely heart-tugging emotions. Despite these strengths, though, the sound quality (especially the dialogue) sometimes leaves much to be desired, and the film editing could have used a little more consistency. Overall, a nice outing to the cinema, even if it's not positively epic filmmaking.

…

Expand

I wanted to love Everest so badly but in the end I wound up just liking it. There's a pretty big cast in this movie some of which have bigger

I wanted to love Everest so badly but in the end I wound up just liking it. There's a pretty big cast in this movie some of which have bigger roles than others, but its a very well performed film. Jason Clarke is without a doubt the star of the film and he probably gives the best performance. Josh Brolin was also very good. Then you have talent like Jake Gyllenhaal, Sam Worthington (who really impressed me) and Kiera Knightley. There is not a huge amount of development in the characters but Brolin and Clarke's characters do get a little which makes the second half of the film work a little better. The film goes through a pretty big shift after about a hour and gets emotional, but not as emotional as it could've been. Then the ending is a bit of a bummer if you are not aware of this story. I did not and the ending was just slightly disappointing.

…

Expand

Documentary type movie. No great scenario or acting. It is a focus on mountains climbing, an adventurous deadly sport whose details are not

Documentary type movie. No great scenario or acting. It is a focus on mountains climbing, an adventurous deadly sport whose details are not known and whose technicalities are not explored. No actor took the camera, just the furious nature. Sometimes a feeling of boredom reigns at the first half and a sense of anxiety at the second half. A learning that is interesting to know more than a movie to enjoy.

…

Expand

I watched this movie with a friend tonight but we couldnt finish it. I was that boring! There was no story, no drama, and the conversations

I watched this movie with a friend tonight but we couldnt finish it. I was that boring! There was no story, no drama, and the conversations and dialogue was horrendous! My friend said that this is how itreally happened but I dont care for reality, I want a thrill.

…

Expand