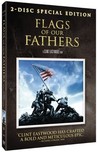 Starring:

Adam Beach

,

Barry Pepper

,

Jesse Bradford

,

Ryan Phillippe

Summary:

Based on the bestselling book, this film chronicles the battle of Iwo Jima and the fates of the flag raisers and some of their brothers in Easy Company. (Warner Bros. Pictures)
Director:

Clint Eastwood

Genre(s):

Action

,

Drama

,

History

,

War

Rating:

R

Runtime:

132 min
Please enter your birth date to continue:
You are not allowed to view this material at this time.
Stands with the best movies of this young century and the old one that preceded it: It's passionate, honest, unflinching, gripping, and it pays respects. The flag raising on Iwo might have indeed become a pseudo-event as it was processed for goals, but there was nothing pseudo about the courage of the men who did it.

Clint Eastwood's Flags of Our Fathers does a most difficult and brave thing and does it brilliantly. It is a movie about a concept. Not just any concept but the shop-worn and often wrong-headed idea of "heroism."

The flaws in Flags of Our Fathers are at least partly attributable to Eastwood's attempts to do too much. Still, even when he overreaches, he somehow hits the mark.

Character development is of secondary importance to narrative and theme. As a result, we never really get to know any of the film's protagonists.

What begins as a sophisticated meditation on the meaning of heroism gradually slumps into leaden repetition in the second half, as the point gets watered down and belabored. After such provocative beginnings, the film finally, dutifully raises its hand in salute.

What Flags of Our Fathers is not, however, is moving, evocative, or very unique.
Very very good movie. i love it. it made me cry.

An unusual war film that seems far more congruent with reality than any of the other WWII flicks of recent years. Despite not much time spent

An unusual war film that seems far more congruent with reality than any of the other WWII flicks of recent years. Despite not much time spent on the characters, smart viewers will still find time to empathize with them as they're thrown about in a story of unusual structure and scope. For the most part this works. Despite minor narrative flaws, this is for me the most real, affecting and smartest WWII film in modern times. Strangely, it goes against all of the worn out and overbearing themes of the far better received "Letters from Iwo Jima" (an obvious Paul Haggis script where "Crash" meets "Saving Private Ryan" with Japanese actors). This is the better film.

…

Expand

As a few others have said, this is a good movie, not a great movie. The movie does not praise war nor does vilify it. The 3 main characters

As a few others have said, this is a good movie, not a great movie. The movie does not praise war nor does vilify it. The 3 main characters did there job and did not seek the praise they received. Even though these men could have walked away from the adulation, Eastwood's film lets you understand why they stayed. I had trouble keeping characters straight but in the end, it didn't matter who raised the flag, they were all heroes.

…

Expand

Director and American icon Clint Eastwood follows up Million Dollar Baby, which was controversial but shouldn't have been, with a

Director and American icon Clint Eastwood follows up Million Dollar Baby, which was controversial but shouldn't have been, with a surprisingly subversive critique of America's participation in the Last Good War that even managed to hoodwink ultrapatriotic right-wing movie reviewer Michael Medved (Baby's prime and most notorious detractor) into uncritically awarding it three and a half stars. (Maybe it's the title.) While Eastwood and writers Paul Haggis and William Broyles Jr. never mention Iraq, the parallels are certainly there for all to see: their movie's vision of World War II is one where funding and public support are controlled and manipulated by (largely fraudulent) PR gimmicks, and both Jessica Lynch and Pat Tillman are shown to have historical predecessors. Ultimately, this is all a lot more interesting to discuss than to actually watch: Eastwood's storytelling approach derails itself with a tortuous, serpentine flashback-within-flashback structure of the kind that occasionally works in romantic dramas and spy thrillers but virtually NEVER in war movies, as the poor reception given to the similarly-structured 1944 Humphrey Bogart French Resistance drama Passage to Marseille (made by the people behind Casablanca) will bear out. (Saving Private Ryan wisely limited itself to making the entire movie a simple journey through only one character's past; perhaps Steven Spielberg, doing co-producer duty here, was trying to top himself. If so, quit while you're ahead!) Eastwood's use of decolorized cinematography in his depiction of the struggle for Iwo Jima is visually effective but nowhere near as gripping or as frightening as Ryan's opening battle sequence, and the use of highly unconvincing special effects and props to depict battlefield gore doesn't work at all. Actors as frequently bland as Jesse Bradford, Ryan Phillippe and Paul Walker, playing servicemen, do nothing to intensify our identification with them, and the only time Flags of Our Fathers really hits the mark is in its fascinating portrayal of Pima Indian Ira Hayes (movingly played by Adam Beach) who generally accepted racist jokes about squaws and wigwams from his fellow Marines as good-natured male bonding but couldn't handle the official and unofficial racism of the folks back home, and because of that AND the knowledge that he was ordered to promulgate a fraud for the sake of building support for the war and selling war bonds, became one of World War II's most poignant psychological casualties. In the last couple of months, we moviegoers have been treated to two inspirational football dramas, two period pieces involving magicians, and THREE films in which a real-life character is so fascinating and beautifully played that he just dwarfs all the other stuff surrounding him. Put together a three-part movie consisting of just the George Reeves material from Hollywoodland, the Idi Amin footage in The Last King of Scotland and everything involving Hayes in this picture, and the resulting anthology would be a prime contender for one of the 10 best films of 2006!

…

Expand

Overrated. A film drained of light, life and energy. The battle sequences especially disappoint and the cutting back and forth in time is

Overrated. A film drained of light, life and energy. The battle sequences especially disappoint and the cutting back and forth in time is really a problem and removes momentum. The film critic community appreciated its anti-heroic stance with an overlying stench of corruption; but the audiences will not.

…

Expand

This movie is not nearly as good as the ratings would suggest. The budget, the genera, R-rating, and director grant it several additional

This movie is not nearly as good as the ratings would suggest. The budget, the genera, R-rating, and director grant it several additional undeserved rating points before it was ever even viewed by most reviewers. We expect to see a mindless comedy, romance, or kiddie movie at the bottom of the scale, but nobody dares to put a "serious" movie there. This movie was simply not entertaining and therefore not that thought provoking either. When rated accurately against its peers, this movie deserves to be rated down with the likes of "Who's Your Caddy?", "Giggli" and "See Spot Run", even if it is a far superior film-making effort.

…

Expand