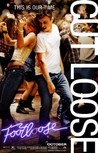 Starring:

Dennis Quaid

,

Julianne Hough

,

Kenny Wormald

Summary:

Ren MacCormack is transplanted from Boston to the small southern town of Bomont where he experiences a heavy dose of culture shock. A few years prior, the community was rocked by a tragic accident that killed five teenagers after a night out and Bomont's local councilmen and the beloved

Ren MacCormack is transplanted from Boston to the small southern town of Bomont where he experiences a heavy dose of culture shock. A few years prior, the community was rocked by a tragic accident that killed five teenagers after a night out and Bomont's local councilmen and the beloved Reverend Shaw Moore responded by implementing ordinances that prohibit loud music and dancing. Not one to bow to the status quo, Ren challenges the ban, revitalizing the town and falling in love with the minister's troubled daughter Ariel in the process. (Paramount Pictures)

…

Expand
Director:

Craig Brewer

Genre(s):

Drama

,

Comedy

,

Musical

Rating:

PG-13

Runtime:

113 min
Please enter your birth date to continue:
You are not allowed to view this material at this time.
Stepping into sacred shoes once worn by Kevin Bacon, Wormald handily owns the role for a new audience. Same goes for a terrific Miles Teller (Rabbit Hole) in the sidekick role of Willard so memorably originated by the late Chris Penn.

The new Footloose does everything it needs to do. It's a vibrant youth musical that will appeal to audiences who haven't seen the 1984 original. And it has enough charm and life to it to compete with the memory of the earlier version.

Plotwise, though, Brewer's Footloose is anything but loose. In fact, it's rigidly loyal to the original, to the point of slavishness.

There have been far, far worse remakes out there. Harmless, feel-good fun.

Oddly, Craig Brewer has softened the tone for his remake. But nearly everything else remains intact, and -- surprisingly -- that's just enough to win us over.

While dance sequences are not particularly well edited compared to the new breed of dance flick, Wormald and Hough are exciting hoofers to watch.

This new Footloose is a film without wit, humor or purpose.
I was surprised with this remake. The only median performance was Julianne. All others are well and Kenny is great. And the script was well

I was surprised with this remake. The only median performance was Julianne. All others are well and Kenny is great. And the script was well adapted to the present day.

…

Expand

An interesting case in Footloose, I believe in other trama, but I found other, and is an incredible trama, I don't watch the original, and

An interesting case in Footloose, I believe in other trama, but I found other, and is an incredible trama, I don't watch the original, and this new version is excellent, the dance scenes are fantastic, the music are fabulous, the performance of Kenny, Julianne and Dennis are fantastic. This Footloose is a new classic. I love it.

…

Expand

Director Craig Brewer has Southernized the story...made it lighter on its feet.

Watch here for freeDirector Craig Brewer has Southernized the story...made it lighter on its feet.

Watch here for free http://www.watchfree.to/watch-18c6eb-Footloose-movie-online-free-putlocker.html

…

Expand

The new Wren is solid, but he's nowhere near as good as Kevin Bacon was. You can say the same thing about every actor in this film. Except

The new Wren is solid, but he's nowhere near as good as Kevin Bacon was. You can say the same thing about every actor in this film. Except Dennis Quaid, that is. I love him, but he was the weak link in this movie. John Lithgow's scenes were so critical to the success of the original - his disapproving words toward his daughter, his messages to his congregation, and his decision to allow (or not allow) the dance carried so much weight in the original. Quaid's performance is like a damp cloth - did zero for me. The biggest surprise for me is the new Willard - very different approach than Chris Penn's take, but it's fresh, fun, and interesting. Think of this film as a tribute band - you go to see it to celebrate the greatness of the original - not to accept it as a substitute or an "update" in any way. In that respect, it did it's job (save for Quaid... sorry Dennis - I think I need to rent Breaking Away just to build you back up in my mind....)

…

Expand

I went to go see this the other day with my gf for our 2 year anniversary (her choice) and ill admit i did enjoy it. Definitely not an oscar

I went to go see this the other day with my gf for our 2 year anniversary (her choice) and ill admit i did enjoy it. Definitely not an oscar winner or any awards for that matter by any means, but i did enjoy it. Irts a fun energetic film with actually a few comedic lines thrown in. I never saw the original with Kevin Bacon so i dont know how to compare although my gf said it was nowheres near as good as the original but we enjoyed it. If your looking for a fun cheesy energetic film with some interesting dance moves to use up an hour and 40 min of your time then give it a watch, but if your looking for a deep story and top notch acting then maybe this isnt for you, 5.5/10

…

Expand

The script closely follows the original. However, I didn't enjoy the cast as much, and found the choreography lacking, which was a huge

The script closely follows the original. However, I didn't enjoy the cast as much, and found the choreography lacking, which was a huge disappointment, given that Julianne Hough is such a terrific dancer. The best way that this movie could have separated itself from the original plot would have been to keep the dancing entirely current, instead of trying to mix the 80s style with a more current style...it just didn't work, partially because the male lead wasn't convincing enough to pull off both styles (and completely lacked charisma). The show would have been served much better with a male lead like Channing Tatum. On a positive note, I think that Julianne Hough and the actor who played Willard were very convincing in their roles.

…

Expand

Brutal movie, bad acting, horrible story, and lack luster dancing. The only thing keeping it from being a 0/10 is Julianne Hough's looks. Save

Brutal movie, bad acting, horrible story, and lack luster dancing. The only thing keeping it from being a 0/10 is Julianne Hough's looks. Save your time, DO NOT BOTHER WATCHING!

…

Expand