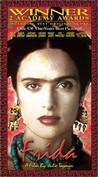 Starring:

Alfred Molina, Salma Hayek

Summary:

Chronicles the life Frida Kahlo (Hayek) shared openly and unflinchingly with her mentor and husband, Diego Rivera (Molina), as this young couple took the art by storm. (Miramax)
Director:

Julie Taymor

Genre(s):

Biography, Drama, Romance

Rating:

R

Runtime:

123 min
Sometimes we feel as if the film careens from one colorful event to another without respite, but sometimes it must have seemed to Frida Kahlo as if her life did, too.

The bulk of the film showcases some of the best direction of actors this year.

Frida favors us with plenty of color, a feast of eye candy. As food for the soul, however...there are always her paintings.

I doubt if the results would have satisfied Kahlo, whose originality in matters of life, art, and ideas was vastly more far-reaching.
Great performance by Salma Haykek and molina. A gorgeous film!

Great movie. Still, my hopes about this film were not high, so I can even say I enjoyed. Selma Hayek surprised me, positively. I did not expe

ct her to be convincing enough, but she actually made me believe that she is Frida. Alfred Molina also seems to be good choice for the role of Diego Rivera. This movie is not just for Frida Kahlo fans and admirers, everybody should give it a chance.

…

Expand

Not sure why this movie is getting such lousy reviews-most reviewers speak to what is lacking in the film-this is a film worth watching if on

ly for its vivid portrayals of characters larger than life. Really you only have an hour and a bit to look at the WHOLE life of an artist and in that respect this film speaks volumes.

…

Expand