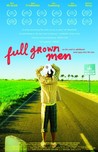 Summary:

Set in a stylized yet familiar landscape of Americana, Munro's whimsical cautionary tale follows Alby Cutrera, a 35-year-old husband and father who longs for the days of his carefree boyhood when his only occupation was playing with his action figures. Desperate to escape the confines of

adulthood and return to his halcyon days, Alby tracks down his childhood whipping boy Elias, who now teaches at a special needs school, and persuades him to take a road trip to Diggityland – their favorite childhood theme park. As the dynamic duo motor along Florida's tatty Orange Blossom Highway, they encounter a cast of tragicomic creatures, including an AWOL ex-theme park employee turned commando hitchhiker, an oversexed bartending clown-in-training, and a trailer-dwelling delusional mermaid . Calamity and mayhem ensue as Alby and Elias' sentimental trip down memory lane becomes an unsolicited lesson in the perils of living in the past. (Emerging Pictures)

…

Expand
Director:

David Munro

Genre(s):

Drama

,

Comedy

Runtime:

78 min
A poignant, quirky and effective alternative to the usual soulless, computer-generated summer fare.

Lyrical and funny, Full Grown Men is a tough-minded film about the need to grow up.

A strong cast, beautiful production values and generally pleasant execution can't disguise the fact both laughs and surprises are on the thin side here, despite the abundant care and affection lavished on the central characters by first-time writer-director David Munro.

Obviously, Munro is reaching for something about how people allow themselves to get mired in the past. But his characters and situations are so exaggerated and dreary that his point gets quickly lost.

Friedlander offers a nicely subtle performance, but the other actors - including Alan Cumming, Deborah Harry and Amy Sedaris - appear to have turned up as a favor to the director. Don't feel obliged to follow their lead.

This candy-colored movie, whose soft hues match the colored cereal loops that Alby devours at his mother's house, is a post-Freudian fable that wants to be a kind of anti-"Wizard of Oz" for a culture inundated with toys and toons.
Cute movie. Kind of like Sideways. I love the actors and it's great for what it's trying to be.

It is probably not fair of me to vote on this one, since I wanted to turn it off before the credits ended. It was obvious the main character

was intolerable and uninteresting and unbelievable from the get-go. It only got worse from there. I made it through half the movie before I decide to go give myself an enema instead.

…

Expand