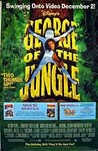 Starring:

Brendan Fraser

,

Leslie Mann

Summary:

Deep in the heart of the African jungle, a baby named George, the sole survivor of a plane crash, is raised by gorillas. George grows up to be a buff and lovable klutz who has a rain forest full of animal friends. When poachers mess with George's pals, the King Of Swing swings into action. (Disney)
Director:

Sam Weisman

Genre(s):

Action

,

Adventure

,

Comedy

,

Romance

,

Family

Rating:

PG

Runtime:

92 min
One of the most witty, entertaining family films to come out in some time.

The kind of silly summer fun that gives family entertainment a good name.

This bit of fluff overflows with so much honest charm it barely matters that it's one in a seemingly endless succession of Tarzan retreads.

So silly, so garishly over-the-top, and so bracingly eager to please, that it's hard not to fall under its gleefully gooney spell.

The plot is predictable, and the humor is uncreative and often crude. The heroine, however, is endearing in her quirkiness.

This appalling desecration of Jay Ward's 1960s cartoon series suffers from countless movie-ruining flaws.
Entertaining as well as excellent.

This is absolutely my favorite movie. It's stayed in my heart since my childhood, for it is a perfect children's movie....for

This is absolutely my favorite movie. It's stayed in my heart since my childhood, for it is a perfect children's movie....for children. And me.

…

Expand

This movie is so conscious of the fact that it's supposed to be a bad movie that, through hilarious fourth-wall references et al., it

This movie is so conscious of the fact that it's supposed to be a bad movie that, through hilarious fourth-wall references et al., it becomes a great movie. Charming, hilarious, and most importantly, fun!

…

Expand

As one part of the lyrics on the entire song said, "WATCH OUT FOR THAT TREE!" Well, I wanted to use that line to say this: This George of the

As one part of the lyrics on the entire song said, "WATCH OUT FOR THAT TREE!" Well, I wanted to use that line to say this: This George of the Jungle did not watch out for that tree.

…

Expand