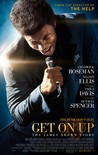 Director:

Tate Taylor

Genre(s):

Biography

,

Drama

,

Music

Rating:

PG-13

Runtime:

139 min
Please enter your birth date to continue:
You are not allowed to view this material at this time.
In 2007, Jamie Foxx won Best Actor for his subtle performance as Ray Charles. Boseman exceeds that solid standard. Incarnating James Brown in all his ornery uniqueness, he deserves a Pulitzer, a Nobel and instant election to the Rock and Roll Hall of Fame.

Get on Up hits all these high points. But the Butterworths fracture the order, fruitfully. They're more interested in making musical and dramatic connections across time and space — something in the '70s triggering a childhood memory, for example — than in laying them out predictably.

Tate Taylor's film cares less about narrative clarity and more about portraying a life lived between the extremes of sin and grace, between the abject and the sublime. It's lively, stylized, and genuinely surprising.

Taylor's movie is overly episodic, but a number of those episodes are marvelous.

Though Get On Up never congeals into a satisfactory whole, its fragmentary portrait of the singer at the height of his fame — intercut with his troubled single-parent childhood — effectively shows his invasive power in popular culture.

Handsomely mounted and energetically played, this movie captures much of the real genius of James Brown... then obscures it with needless chronological fiddling.

Get On Up is the Hollywood biopic at its near-worst — a formless, extravagant assortment of historical incidents and lip-synched musical numbers, which ultimately amount to little more than a 138-minute showcase reel for Chadwick Boseman's technically impressive and utterly opaque James Brown impression.
No chance I'm ever going to see a better movie. I loved Get On Up , brilliant movie!!!DO see this! A great movie for the whole family. If you

No chance I'm ever going to see a better movie. I loved Get On Up , brilliant movie!!!DO see this! A great movie for the whole family. If you only see one movie this summer see Get On Up !!!

…

Expand

Outstanding performance by Chadwick Boseman. His James Brown is spot on. The movie tells the back story of one of rock n' roll's most defining

Outstanding performance by Chadwick Boseman. His James Brown is spot on. The movie tells the back story of one of rock n' roll's most defining stars. The plot is a bit jumbled with timelines bouncing back & forth, but Boseman's performance makes the trip more than worth the ride.

…

Expand

Really enjoyed this movie. Laughed at the beginning, felt sad at times for his terrible childhood but overall, had me from start to finish. A

Really enjoyed this movie. Laughed at the beginning, felt sad at times for his terrible childhood but overall, had me from start to finish. A very good portrait of the Godfather of Soul. Bobby Byrd was well played too and the actors has a great chemistry as there lives progressed together. Overall a solid 8 for me.
Plus, after watching, i just had to go and play some JB of course. Thanks Legend for all the good music!

…

Expand

Boseman's portrayal of James Brown is fascinating, and this film does a great job of showing his determination and sheer genius. But that's

Boseman's portrayal of James Brown is fascinating, and this film does a great job of showing his determination and sheer genius. But that's where my compliments stop. The script jumps around all over the place, and skims over important details like the death of his son and his descent into drugs and ruin. It spends much more time explaining his pathology by way of flashbacks to his childhood. A good editor and better director (is Mick Jagger broke?!) could have brought in a great movie in under 2:18.

…

Expand

This review contains spoilers, click expand to view.

Very sub-par biopic. It basically white-washed James Browns life and I feel it only vaguely touched the surface on him as a person. Mostly showed him performing and different periods of his career. Only a little bit with issues with the band, but it never really went into the heart and core of who the guy was. For instance he was arrested multiple times for a number of things, and the film barely shows any of that. It shows 1 or 2 incidents but in such a favorable light that it doesn't have much impact and does not reveal the truth. I like realitic biopics that really shed new light on a person and this movie did very little in that regard except showing a little bit of his upbrining, but never went into WHY he did what he did, WHY he acted that way. It made no attempt to explain or explore the real James Brown and spent 70% of the time showing a favorable version of him and performance pieces for Chadwick Boseman (who did OK but did not really capture the guys darker side much.) For a guy who brutally attacked his wife, almost shot people with a shotgun, and had ongoing personal problems with his bandmates this film glossed over 70% of that to try to make the guy look likable and felt more like a tribute to James Brown than an honest look at his life. It was decently done though and was certainly worth watching, but it was just OK overall.

…

Expand

I can understand why some people would dislike the jumping-around story lines, but I liked the approach. It added to the feeling of volatility

I can understand why some people would dislike the jumping-around story lines, but I liked the approach. It added to the feeling of volatility that surely was a big part of James Brown's life, and to the feeling of his being haunted by his past. I did feel that the filmmakers put a bright 'n' shiny polish on a life that had some sordid, shameful episodes. I'm used to Southern speech patterns, but couldn't make out what the heck Chadwick Boseman was saying at times ... still, his performance had terrific heart & energy and his onstage performances were amazing.

…

Expand

Weak attempt at trying to recreate RAY-like cast and atmosphere here.
I think Chadwick Boseman gives a pretty good performance but this lacksWeak attempt at trying to recreate RAY-like cast and atmosphere here.
I think Chadwick Boseman gives a pretty good performance but this lacks originality and uniqueness.
Be here, seen this.

…

Expand