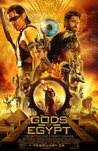 Summary:

The survival of mankind hangs in the balance as an unexpected mortal hero Bek (Brenton Thwaites) undertakes a thrilling journey to save the world and rescue his true love. In order to succeed, he must enlist the help of the powerful god Horus (Nikolaj Coster-Waldau) in an unlikely alliance

The survival of mankind hangs in the balance as an unexpected mortal hero Bek (Brenton Thwaites) undertakes a thrilling journey to save the world and rescue his true love. In order to succeed, he must enlist the help of the powerful god Horus (Nikolaj Coster-Waldau) in an unlikely alliance against Set (Gerard Butler), the merciless god of darkness, who has usurped Egypt's throne, plunging the once peaceful and prosperous empire into chaos and conflict. As their breathtaking battle against Set and his henchmen takes them into the afterlife and across the heavens, both god and mortal must pass tests of courage and sacrifice if they hope to prevail in the epic final confrontation.

…

Expand
Director:

Alex Proyas

Genre(s):

Action

,

Adventure

,

Fantasy

Rating:

PG-13

Runtime:

127 min
Please enter your birth date to continue:
You are not allowed to view this material at this time.
It's a spectacular mess that's shameless in its desire to entertain through sheer, misbegotten excess.

While the film becomes a constant test to outdo itself, the raw ambition isn't nearly enough to make up for the content of the actual film: an ungainly, ugly, nearly interminable monstrosity.

This is by any measure a dreadful movie, a chintzy, CG-encrusted eyesore that oozes stupidity and self-indulgence from every pore. Yet damned if Proyas doesn't put it all out there with a lunatic conviction you can't help but admire.

Its virtues as throwback don't elide the foolhardly decision to imprint an ancient mythology on a contemporary superhero framework.

Call it "Clash of the Whitans," and call it a folly that doesn't have the energy or delirium to qualify as entertaining crap. It's just crap.
I'm not sure why this has so many low scores. Especially for "all of the gods being white". There was actually a black god, I guess they

I'm not sure why this has so many low scores. Especially for "all of the gods being white". There was actually a black god, I guess they watched a different movie than I did. The only thing I did not like about this movie is some of the romance scenes and some of the CGI wasn't very believable and for lack of a better phrase, "Gay looking". This movie is action packed, and the story is pretty solid. I'm going to have to give it a 6 or 7 out of 10, because it was clearly above 5, which is what I consider to be average. I'm going to give it a 10 on metacritic to balance all of these people who aren't able to see the black god of wisdom.

…

Expand

I don't know why all these reviews are so bad when me and my mother saw it in 3d and we both thought it was good. I would say it's about as

I don't know why all these reviews are so bad when me and my mother saw it in 3d and we both thought it was good. I would say it's about as good as 300 part 2. I would give it a 10 but I'm an honest reviewer and there is always something that can be improved upon so the only movie I would give a 10 to would be a movie that absolutely blows me away and does everything perfectly. People who give this a score lower than a 6 can absolutely be disregarded as bias and comparing it to a movie that they think it should be. Graphics are amazing in 3d, the story is pretty good and I couldn't find anything wrong with the movie as a whole. I watched a video review of this movie before I went to see it and it was giving it a bad rating, then I came to this website to see what the review was and also got a bad rating so I had to go see it myself and now I am baffled by these ratings because it is actually not near as bad as everyone is saying.

…

Expand

This movie was pretty fun to watch. No the CGI wasn't perfect, and no the mythology wasn't followed strictly, but who said it was supposed to?

This movie was pretty fun to watch. No the CGI wasn't perfect, and no the mythology wasn't followed strictly, but who said it was supposed to? This is another fun action movie with some touching bits thrown in every now and then. If you like action movies, I would say go see it. It isn't as action heavy as London has Fallen, but it is still fun nonetheless. I do feel like it got a bit too long in the tooth by the end of the running time, it felt like it could have ended maybe 15 or 25 minutes earlier.

…

Expand

LOL white people playing black Gods in Africa. Only in Hollywood. Save your money this movie is lame I walked out of the movie spot. Why not

LOL white people playing black Gods in Africa. Only in Hollywood. Save your money this movie is lame I walked out of the movie spot. Why not get the people the actually were black to play themselves moreover the Gods in Africa are black and dark-skin. I love everyone but it's weird to see black Gods white washed. Good luck Hollywood.

…

Expand

Gods of Egypt (as predicted) was a total disaster. While it isn't the movie ever made, because lets be honest here, we all have seen much

Gods of Egypt (as predicted) was a total disaster. While it isn't the movie ever made, because lets be honest here, we all have seen much worse. The effect's looked unfinished, Gerard Butler was way too over the top and Alex Proyas is slowing becoming a hack.

…

Expand

130 million has burned this film.
It looks visually good but that do a lot of movies. But if we take the story, screenplay, cast and the rest130 million has burned this film.
It looks visually good but that do a lot of movies. But if we take the story, screenplay, cast and the rest under the microscope shows the whole misery.
A fürchtbar dreary and boring movie with weak actors and a bad director.
Too bad about the money.

…

Expand

This review contains spoilers, click expand to view.

My first impression of walking out of the theater after seeing Gods of Egypt was that I couldn't remember anything about the movie except for Gerard Butler's amazing death scream at the end. I like fun action movies as much as the next guy, but this movie was just too boring and too full of schlock CGI to be worth my time.

…

Expand