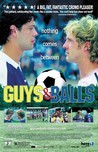 Starring:

Dietmar Bär

,

Lisa Potthoff

,

Maximilian Brückner

Summary:

Disgraced and kicked off his homophobic soccer team, Ecki swears revenge against his former teammates. With the help of his sister, he forms a rag-tag, all-gay team to compete in the ultimate grudge match. It's a hilarious journey for Ecki, his family and their entire town in this sweet,

Disgraced and kicked off his homophobic soccer team, Ecki swears revenge against his former teammates. With the help of his sister, he forms a rag-tag, all-gay team to compete in the ultimate grudge match. It's a hilarious journey for Ecki, his family and their entire town in this sweet, sexy and thoroughly surprising comedy. (Regent Releasing)

…

Expand
Director:

Sherry Horman

Genre(s):

Drama

,

Sport

,

Comedy

,

Romance

Rating:

R

Runtime:

106 min
It's surefire entertainment: loopy and predictable, but tremendously likable.

If there's a gay cliche who doesn't flounce through this feel-good German comedy, he must have been out of town when the casting call went out, but its fundamental good nature is tough to resist.

Both totally predictable and unerringly charming, with all of the quirky players, training montages, and father-son drama you'd expect.

Following the same general blueprint as "The Bad News Bears" or "The Longest Yard," this engaging, well-paced German film directed by Sherry Horman includes a vibrantly funny script by Benedikt Gollhardt.

The climactic game provides an opportunity for some of the most sustained - and literal - gay bashing in movie history, even if the outcome is no more surprising than that of any other underdog comedy.

There are moments of genuine emotion between the wacky tryouts and the nail-biter finale, and it seems churlish to complain. But there's little room for laziness around superior players like "Shaolin Soccer" and "Bend It Like Beckham."

A by-the-numbers ensemble dramedy that hits every underdog and gay-fish-out-of-water cliche on the nose.