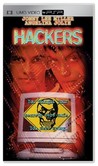 Starring:

Angelina Jolie

,

Jonny Lee Miller

Summary:

A neophyte "hacker" becomes the target of the FBI after he unknowingly taps into a high-tech embezzling scheme which could cause a horrific environmental disaster in this suspenseful drama. (MGM)
Director:

Iain Softley

Genre(s):

Action

,

Drama

,

Thriller

,

Crime

Rating:

PG-13

Runtime:

107 min
Please enter your birth date to continue:
You are not allowed to view this material at this time.
Jolie, the daughter of Jon Voight, and Miller, a British newcomer, bring a particular quality to their performances that is convincing and engaging.

Recalls the pumped-up energy of "Pump Up the Volume," as well as its casting prowess.

Without being any sort of miracle, this is an engaging and lively exploitation fantasy-thriller about computer hackers, anarchistic in spirit, that succeeds at just about everything "The Net" failed to--especially in representing computer operations with some visual flair.

Still odder is the movie's sexual worldview, which is simultaneously infantile and fetishistic. Boys wear rubber, lipstick, and spandex, but don't seem to have a sexual bone in their unmuscled bodies.

Want a believable plot or acting? Forget it. But if you just want knockout images, unabashed eye candy and a riveting look at a complex world that seems both real and fake at the same time, "Hackers'' is one of the most intriguing movies of the year.

The one outstanding ingredient in this exercise is Miller, an English actor who is not only irresistibly adorable and a good actor, but also speaks in a perfect American accent.

It's a dismal mess...What's most grating about Hackers, however, is the guileless way the movie buys in to the computer-kid-as-elite-rebel mystique currently being peddled by magazines like Wired.
Fantastic, fun movie. Not a serious look at hacking, but rather a great portrayal of the hacking sub-culture. Not to be taken seriously, just

Fantastic, fun movie. Not a serious look at hacking, but rather a great portrayal of the hacking sub-culture. Not to be taken seriously, just great fun.

…

Collapse

Don't take it seriously and just have fun with it....A boy meets girl and saves the world by typing movie with a fun heart.

I liked this movie but the graphics of when they were hacking into the system wasn't good. When the power went through the wires, it seemed

I liked this movie but the graphics of when they were hacking into the system wasn't good. When the power went through the wires, it seemed like it took a long time. But overall it was a good movie.

…

Expand

With plot holes big enough to drive a plot through, and a level of realism usually only found in sci-fi B movies, this movie isn't a classic.

With plot holes big enough to drive a plot through, and a level of realism usually only found in sci-fi B movies, this movie isn't a classic. That being said, it's fun. I campy nerd film. If you are not a computer person, or are an actual hacker, avoid this, but if you own a keyboard and know what a d20 is, you'll enjoy this.

…

Expand

Although this was not my favorite movie, it wasn't the worst movie I have every seen. I didn't like all of the old technology though... too

Although this was not my favorite movie, it wasn't the worst movie I have every seen. I didn't like all of the old technology though... too out of date in my opinion.

…

Expand

Characters were interesting. The effects are overly-used. Good idea, just not executed well. Not really realistic because I don't think that

Characters were interesting. The effects are overly-used. Good idea, just not executed well. Not really realistic because I don't think that hacking requires just mashing keyboard buttons and sending rabbit viruses.

…

Expand

Sorry, this is probably one of the worst movies I have ever seen. Not only did the lead actor have the talent of a cabbage, but the entire

Sorry, this is probably one of the worst movies I have ever seen. Not only did the lead actor have the talent of a cabbage, but the entire thing looked like it was directed and written by a bunch of 40-somethings who were trying to appeal to a younger audience. The entire concept doesn't lend itself well to a special effects film and only ends up dating the movie worse than most. Watching it right after seeing The Wackness may have skewed my persepective, being that Wackness was a far superior representation of the 90's and all around film, but either way Hackers was still awful.

…

Expand