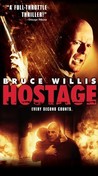 Starring:

Bruce Willis

,

Kevin Pollak

,

Serena Scott Thomas

Summary:

Devastated by an unspeakable tragedy while on the job as a hostage negotiator for the LAPD, Jeff Talley (Willis) resigns and accepts a low profile job as the chief of police in a sleepy town. On a slow Monday morning Talley's job becomes anything but quiet and sets him on a course that could

Devastated by an unspeakable tragedy while on the job as a hostage negotiator for the LAPD, Jeff Talley (Willis) resigns and accepts a low profile job as the chief of police in a sleepy town. On a slow Monday morning Talley's job becomes anything but quiet and sets him on a course that could change not only his professional but personal life forever. (Miramax)

…

Expand
Director:

Florent Emilio Siri

Genre(s):

Action

,

Drama

,

Thriller

,

Crime

Rating:

R

Runtime:

113 min
Please enter your birth date to continue:
You are not allowed to view this material at this time.
Made with energetic flair and no small dose of violence, mercifully handled with discretion, Hostage exemplifies taut, confident filmmaking.

If Hostage looks a lot like a state-of-the-art French "policier" minus the pesky subtitles, the effect is purely intentional.

Willis, who'll turn 50 a week from Saturday, has this kind of hero down pat. He may never again get or demand the complicated dramatic roles I think he could handle, but he's well-cast.

By the time the film escalates into a suitably ridiculous Grand Guignol finale, all connection to reality has been severed.

The action is dynamically filmed and Willis is at his best. Suspense is soon hijacked by outright gore and grisliness, though.

Beyond the cliches, there's something deeply offensive about the way Hostage exploits our empathy for children in peril.

More than sad, it's slightly sickening to consider the technology, talent and know-how squandered on Hostage, a pile of blood-soaked toxic waste dumped onto the screen in an attempt to salvage Bruce Willis's fading career as an action hero.
This movie is very interesting. It starts a simple hostage situation and it gets more complex and more thrilling than most movies. It has

This movie is very interesting. It starts a simple hostage situation and it gets more complex and more thrilling than most movies. It has suspense all the way and keeps wanting to see how everything will end. Its a great experience and thats all that matters!.

…

Expand

The acting was not that bad, the visuals were okay and overall the movie was entertaining.If you are looking for a big movie with a lot of

The acting was not that bad, the visuals were okay and overall the movie was entertaining.If you are looking for a big movie with a lot of action you will probably be disappointed but it stays a good movie.

…

Expand

This is such a great action packed movie with a great deal of suspense, good acting, and an overall decent plot. Pay no attention to the

This is such a great action packed movie with a great deal of suspense, good acting, and an overall decent plot. Pay no attention to the horrible review that the good for nothing critics gave this movie.

…

Expand

This film is really difficult to judge. The film itself is a good old fashioned Bruce Willis action movie. But and it's a big BUT the

This film is really difficult to judge. The film itself is a good old fashioned Bruce Willis action movie. But and it's a big BUT the novel it is based on by Robert Crais is one of the best crime thriller books ever written and the movie decided to pick parts of the story to follow and not always the best parts i.e. the discovery in MARS home which is not in the film.

…

Expand

I was looking forward to viewing this movie because it was based on a novel by Robert Crais who I admire as a mystery writer. Needless to

I was looking forward to viewing this movie because it was based on a novel by Robert Crais who I admire as a mystery writer. Needless to say, it was too much over the top with special effects and way too long.

…

Expand