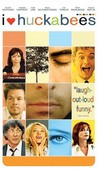 Starring:

Dustin Hoffman

,

Jason Schwartzman

,

Jude Law

,

Lily Tomlin

,

Mark Wahlberg

,

Naomi Watts

Summary:

Convinced that a series of coincidences involving a doorman hold some secret to life's largest riddles, Albert Markovski (Schwartzman) seeks the help of a detective agency unlike any other...which leads him down a path that questions the essence of existence itself. (20th Century Fox)
Director:

David O. Russell

Genre(s):

Drama

,

Comedy

Rating:

TV-MA

Runtime:

107 min
Please enter your birth date to continue:
You are not allowed to view this material at this time.
The result is by far the most original comedy of the year. Russell might alienate some audience members here--but it's possible they literally won't know what they're missing.

One of the boldest, most audacious American movies of the last 25 years, a freewheeling cerebral carnival of energy and ideas, if not always coherence or cohesion.

As one might imagine, with such a neato premise and lofty goal, the plot's a little messy. So points docked for execution.

Despite the unique premise and some truly inspired casting, the picture remains stuck in an existential rut of its own.

The philosophic notions in I Love Huckabees are ultimately not much more than window dressing for some fancy slapstick.

The resulting product is so disjointed it's hard to tell if Russell dumbed down the film in the hope of garnering a larger audience, or if I Heart Huckabees simply isn't as smart as it likes to think it is.
I loved this movie so much i couldnt stop laughing everytime i watch it it gets funnier it never plays out. i think this is the most

I loved this movie so much i couldnt stop laughing everytime i watch it it gets funnier it never plays out. i think this is the most underrated movie this year. mark wahlberg was halarious everytime he's on the screen i cant stop laughing.

…

Expand

Brilliant, original, and hilarious!

WARNING: this movie is NOT for a general audience like all books are not written for one person, etc. If you like philosophy and ideas, this

WARNING: this movie is NOT for a general audience like all books are not written for one person, etc. If you like philosophy and ideas, this is as good a dramatization as has been realized on screen. That's Russell's real achievement here. As for the cast, score, design, etc. it's terrific. Well done, Mr. Russell. This film has a heart and a voice that is infinite. An undeniable classic that captures the times.

…

Expand

Very much in line with "Rushmore" or "the aquatic life..." Great cast, great acting jobs, very pleasant.

Excellent movie on a cerebral level, and proof that genuine creativity is still possible in Hollywood. Too bad the film is structurally weak.

Excellent movie on a cerebral level, and proof that genuine creativity is still possible in Hollywood. Too bad the film is structurally weak. The convolutions of the thought processes presented spill over into the plot presentation - just a little too much to juggle on the fly. And sure, it's a comedy, but the music mocks the content. End result: Less than the sum of its parts.

…

Expand

Philosophy 101 gets boring after about 30 minutes. Great cast, top notch talent all around, but squandered.

This lazy movie asks you to blindly accept the philosophy presented, while criticizing you for blindly accepting what you already believe.

This lazy movie asks you to blindly accept the philosophy presented, while criticizing you for blindly accepting what you already believe. You can't have it both ways. I might have been o.k. with the concept had the film actually contained some entertainment. No, it's just preaching to the choir, or alienating anybody who's not in that particular choir.

…

Expand