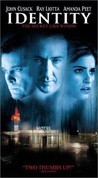 Starring:

Amanda Peet

,

John Cusack

,

Ray Liotta

Summary:

Caught in a savage rainstorm, ten travelers are forced to seek refuge at a strange desert motel. They soon realize they've found anything but shelter. There is a killer among them and, one by one, they are murdered. (Sony)
Director:

James Mangold

Genre(s):

Mystery

,

Thriller

,

Horror

Rating:

R

Runtime:

90 min
Please enter your birth date to continue:
You are not allowed to view this material at this time.
Identity is an outright blast, so fun it's--pardon--scary.

So ingeniously constructed that these meta-noir ingredients feel dizzyingly enjoyable, never hackneyed. In fact, the overheated melodrama of Identity is crucial to its method -- and the key, in some ways, to its narrative secrets.

Cooney's achingly clever script has more up its sleeve than just Agatha Christie -- he also evokes "Psycho," "The Sixth Sense," "Poltergeist" and "The Omen" -- and the final third dishes up a twist that isn't just surprising, it's revealing

Approaches the serial killer archetype in a tremendously unique way. It turns the old stand-bys on their ears and gives a fresh perspective on the genre.

Some fancy footwork in the writing and directing can't disguise the hoary "Ten Little Indians" origins of Identity.

The tension's palpable and the deaths are gruesomely inventive (and jarringly abrupt), but the clincher is so far-fetched you may end up wishing you'd opted for the relative reality of a week in Cancun instead.

The ultimate cliché of plot-twist implausibility, the crucial revelation is so outlandishly fatuous it might have given Donald Kaufman pause.
I was entirely blown away by the script ,cucak is in his full elements.

One of the most unique movies ive seen and very well done.

The problem with this movie is that you don't get what you expect. If you expect a typical horror-mystery thriller, you will not become

The problem with this movie is that you don't get what you expect. If you expect a typical horror-mystery thriller, you will not become happy with this movie, because in the end it is almost a psychological study. So if you are open for genre-mixtures, you will get a good movie. I give it a 8, because for me it was too obvious who was the murderer.

…

Expand

Plays like a classic game of Clue, but don't get me wrong. This baby is exhilarating and fresh. You'll like everything it gives you.

Let me star off by saying that with this movie you don't get what you expect. You buy this movie expecting a good slasher mystery

Let me star off by saying that with this movie you don't get what you expect. You buy this movie expecting a good slasher mystery thriller, that's not what you get here. Identity stars John Cusack, Ray Liotta & Amanda Peet as three of the ten strangers trapped in a run down motel during a savage thunder storm. The film starts off by introducing the characters, and then showing how they all got to the motel. The York's had a a family crisis, the limo driver was in an accident, the actress on her way to Hollywood for a small TV gig, the newly married couple with martial trouble, and the cop transporting a convict. These ten people have nothing in common, nothing except all there names are of places & they all have the same birthday. But now all ten of them are trapped in a motel with nowhere to go. Soon enough one of them turns up dead and they realize that there's a killer among them, now the nine have to find out who is trying to kill them before there's none of them left. Identity is a fast-paced extremely entertaining movie with a great idea and a bad story.

…

Expand

Entertaining "who-dun-it", with a great cast and lots of fun twists and turns. The major problem that I have is that each individual

Entertaining "who-dun-it", with a great cast and lots of fun twists and turns. The major problem that I have is that each individual characters story line seems to fall out of a soap opera.

…

Expand

A thinker, a real complex thinker. Not at all a bad thing; however, when the audience is neglected and one too many turns are made, it no

A thinker, a real complex thinker. Not at all a bad thing; however, when the audience is neglected and one too many turns are made, it no longer is enjoyable.

…

Expand