Release Date:

Nov 13, 2012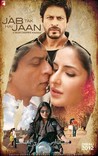 Director:

Yash Chopra

Genre(s):

Drama

,

Romance

Rating:

Not Rated

Runtime:

176 min
Please enter your birth date to continue:
You are not allowed to view this material at this time.
Even though the film drags, the magic of Bollywood is that this story's muddle of twists only clarifies the urgency behind the undying desires of all concerned parties.

The film has a freshness that would never lead one to think it was directed by an 80-year-old while at the same time it has a sureness of tone, a certainty about itself even at its most audacious, that comes from the hand of a seasoned master.

Even by the freewheeling, mood-swinging standards of Bollywood, the pronounced disparity between the pre- and post-intermission halves of Jab tak hai jaan is more than a tad jarring. Indeed, viewers may feel they've been treated to an oddly matched double bill -- a delightfully vivacious romantic dramedy, followed by an Old Hollywood sort of psychological melodrama.
The most awaited film of the year delivers what it's got. Excellent direction from Yash Chopra . Shah Rukh Khan's Best Performance till Date.

The most awaited film of the year delivers what it's got. Excellent direction from Yash Chopra . Shah Rukh Khan's Best Performance till Date. Katrina act act , Finally. Anuskha Sharma is fantastic . A R Rahman delivers pretty good. The cinematography is very good. Overall THIS IS THE MOVIE OF THE YEAR.

…

Expand

This movie is the best the romantic movie world have ever seen in ..... and this will break all the previous records ... this movie contains

This movie is the best the romantic movie world have ever seen in ..... and this will break all the previous records ... this movie contains great story line , superb casting , awesome acting , most beautiful songs.. and SRK ... and a positive point for this movie is this is Mr Yash chopra's Last movie.... my best wishes with this movie .... we all know this movie is a epic love story .... I bet that,no one can forget this movie in there lifetime ..

…

Expand

A typical Yash Chopra's movie. Shahrukh has performed up to the mark and also Anuskha. Katrina's chemistry with SRK is superb. Its a come-back

A typical Yash Chopra's movie. Shahrukh has performed up to the mark and also Anuskha. Katrina's chemistry with SRK is superb. Its a come-back of SRK into romance. A.R Rahman has delivered his stuff.

…

Expand

Yash Raj did a good job before leaving film industry . Storyline is excellent. www.bollywood4family.com detailed that movie has some

Yash Raj did a good job before leaving film industry . Storyline is excellent. www.bollywood4family.com detailed that movie has some objectionable scenes which I didn

…

Expand

A great comeback by the legendary director Yash Chopra. Flawless screenplay by Aditya Chopra. There is no doubt the Chopra's have directed

A great comeback by the legendary director Yash Chopra. Flawless screenplay by Aditya Chopra. There is no doubt the Chopra's have directed only Shahrukh Khan since his arrival in Industry.
A great performance by Shahrukh Khan. Has been long time since he has done romantic movies and has proved once again that he is still the King.
Music was also very good. Also the choreography for the Ishq Shava song was simply great. SRK didnt seem that old dancing to that song.

…

Expand

ROMANCE.. Shahrukh's known for that.. and he has made sure that he will be known forever. One of the Best Romantic movies of all time in

ROMANCE.. Shahrukh's known for that.. and he has made sure that he will be known forever. One of the Best Romantic movies of all time in Bollywood.. DRAMA.. Who else can be more dramatic than SRK. The story unravels nicely. The movie keeps up with the high expectations of the JTHJ fans.. ACTING.. Srk, Katrina and Anushka, everyone has done a good job. Srk particularly has given a youthful, strong and masculine performance in various portions of the movie.. MUSIC.. A.R Rahman, The Maestro strikes the chord again. Most of the songs will go home with You.. Challa brings back Rabbi Shergill.. DIRECTION.. Very good.. Great Locales.. and one of Yash Chopra's best. The combination of Yash Chopra and Srk has always worked.. and this time it will become one of the highest grosser.. I am an SRK fan.. just like my girl.. so i give 10/10.. Go watch it.. make Your Diwali a Happy Diwali..

…

Expand

ROMANCE.. Shahrukh's known for that.. and he has made sure that he will be known forever. One of the Best Romantic movies of all time in

ROMANCE.. Shahrukh's known for that.. and he has made sure that he will be known forever. One of the Best Romantic movies of all time in Bollywood.. DRAMA.. Who else can be more dramatic than SRK. The story unravels nicely. The movie keeps up with the high expectations of the JTHJ fans.. ACTING.. Srk, Katrina and Anushka, everyone has done a good job. Srk particularly has given a youthful, strong and masculine performance in various portions of the movie.. MUSIC.. A.R Rahman, The Maestro strikes the chord again. Most of the songs will go home with You.. Challa brings back Rabbi Shergill.. DIRECTION.. Very good.. Great Locales.. and one of Yash Chopra's best. The combination of Yash Chopra and Srk has always worked.. and this time it will become one of the highest grosser.. I am an SRK fan.. just like my girl.. so i give 10/10.. Go watch it.. make Your Diwali a Happy Diwali..

…

Collapse