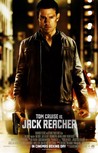 Starring:

Richard Jenkins

,

Rosamund Pike

,

Tom Cruise

,

Werner Herzog

Summary:

When five people are shot dead, a trained military sniper becomes the primary perp. The only chance he has to clear his name rests in the hands of one man: Jack Reacher. Based on the novel "One Shot" by Lee Child.
Please enter your birth date to continue:
You are not allowed to view this material at this time.
In terms of pure pop entertainment value, you'll be hard-pressed to find a more smartly constructed, beautifully shot, pulse-pounding movie this holiday season.

Werner Herzog, better known as one of the finest living directors, plays a bad guy with Teutonic relish. If he doesn't watch it, he'll have a whole other career for himself playing dead-eyed villains.

Cruise is definitely too short for the gig, but in this first fight, he proves his tough-guy chops. Outraged Reacher readers can stand down.

Reacher is a brawny action figure whose exploits would have been a good fit for the likes of Arnold Schwarzenegger or Sylvester Stallone back in the day, but feel less fun when delegated to a leading man like Tom Cruise. The star is too charismatic to play someone so cold-blooded, and his fans likely won't appreciate the stretch.

The whole movie is like an NRA wet dream, with Robert Duvall as a crusty gun-range owner who pitches in to shoot bad guys. Jack Reacher already feels as if it belongs to another era.

Jack Reacher, which Christopher McQuarrie directed from his adaptation of a Lee Child crime novel, is not just another dumb thriller. It's almost peerlessly self-important, weirdly incoherent and eerily smarmy. It's also mysteriously inept, considering that Tom Cruise plays the title role.
"Jack Reacher" is awesome, much better than the overrated "Looper" that came out earlier this year. This action movie might not pile up a ton

"Jack Reacher" is awesome, much better than the overrated "Looper" that came out earlier this year. This action movie might not pile up a ton of action, but the action it does have is believable and exciting. Tom Cruise does yet another excellent performance. Its not the most thought-provoking mystery movie i've seen, but it is epic.

…

Expand

It's official. Hollywood critics have it in for Tom Cruise. How else can we explain Jack Reacher's aggregate low scores? This is not Oscar

It's official. Hollywood critics have it in for Tom Cruise. How else can we explain Jack Reacher's aggregate low scores? This is not Oscar worthy stuff. But as far as movie entertainment goes, JR was a very satisfying action thriller. In fact, I enjoyed it much more than the latest James Bond flick (Skyfall) which has garnered across the board positive reviews. Say what you will about Cruise (and his controversial views / behavior ) but let's at least be fair! Writer-Director Christopher McQuarrie has made a very entertaining movie. This is the best Tom Cruise flick I've seen in years...

…

Expand

Huge casting blunder to expect Tom Cruise to play Jack Reacher. He doesn't even begin to portray the brooding, damaged, taut-steel machismo

Huge casting blunder to expect Tom Cruise to play Jack Reacher. He doesn't even begin to portray the brooding, damaged, taut-steel machismo of the the character. Instead we wind up with a middle-aged Top Gun playing tough guy. It falls so short of the character presented in Lee Child's fiction that I found it difficult to get into the movie, constantly finding myself thinking "no way Jack Reacher would come across like that". I guess that's the curse of having heard Dick Hill narrating the audiobook to compare against. Aside from that, the movie is good for whiling away a couple of hours. It grabs your attention and keeps it. I hope we see more of Lee Child's books on the screen. Preferably with a different lead.

…

Expand

There is a very quiet opening sequence that sets up the pace for this movie, its fast, smart, and enjoyable from start to a predictable yet

There is a very quiet opening sequence that sets up the pace for this movie, its fast, smart, and enjoyable from start to a predictable yet entertaining finish.
Jack Reacher is brought to the big screen in a small way, in the form of Tom Cruise, who doesn't exactly fit the description of the monstrous Reacher of the comics, but he certainly brings his own attitude and his own cards to the table to leave behind a very convincing role as the mysterious investigator.
Jack reacher didnt fall into the action hero book to film trap of an all out explosion frenzied movie, it tries to to form a story as its backbone which turn introduces an array of characters, all with a relevant connection to the sniper events at the start of the film.
The cinematography in Reacher is excellent, it really was surprising to see so much focus on individual shots for a so-called popcorn movie. From the landscaping shots of the sniper scenes to the close cam car chases, it feels more intense, especially since the particular chase scene had no score or background music at all, and it simply worked.
Cruise does bring difference to a role that many would have seen as another Ethan Hawke, but Cruise manages to draw the line in his movies where he knows what the difference needs to be, Cruise's Reacher is calm, he's isolated, motivated, but more importantly, not afraid to seek justice by any means necessary, and this was portrayed on screen.
Rosamund Pike makes a starring role as counsellor Heen Rodin, and daughter to District Attorney Alex Rodin (Richard Jenkins), there is also a minor appearance from Robert Duvall.
While the turn of events and climax of the film are predictable, it still has a smart finish with guns glitz an glamour.
The films dialogue was very good indeed and the humorous moments in the film did show that care needed to be taken not to take the film too seriously. The close combat at work here is excellent, bizarre and sometimes horrific (using one mans head to knockout another man, while they are both lying on the floor) but again it fits well with mystery and intrigue surrounding Jack Reacher.
Fun, sophisticated, well scripted, and a convincing story, the Jack Reacher film is worth the trip.

…

Expand

Jack Reacher is not completely without its merits. Devout followers of Lee Child's novels had trouble accepting Tom Cruise as the strapping,

Jack Reacher is not completely without its merits. Devout followers of Lee Child's novels had trouble accepting Tom Cruise as the strapping, Viking-esque eponymous protagonist, but to reject Tommy Boy too early is a big mistake: for all the constantly-swirling controversy Cruise somehow continues to keep simmering, he's as able to both fill seats and entertain now as he ever has been. In fact, Cruise's steely cool is perhaps Christopher McQuarrie's film's grandest asset. One can't quite shake the fact, though, that there should be at the very least a bit more popcorn fun to Jack Reacher. McQuarrie has assembled a sensational cast Richard Jenkins, Robert Duvall, and even our favorite thickly-accented fusspot Werner Herzog appear here but after the gleeful advent of their mere presence wears off, there's not all that much for them to do. Jack Reacher wants to be a new kind of Mission: Impossible where Bourne Supremacy-esque action replaces any deep need for well-rounded character, but McQuarrie and Cruise never fully get around to successfully making their case. This is easily-digestible Hollywood fare, to be sure, but there's not quite enough meat on the bone here.

…

Expand

Thought this was going to be an old-style hero kicks-ass and blows everything up doing it, but instead it's a murder mystery with Tom Cruise

Thought this was going to be an old-style hero kicks-ass and blows everything up doing it, but instead it's a murder mystery with Tom Cruise out of his element in this type of mixed role. Seriously, much of this film could've played out on an episode of Dateline: NBC which specializes in murder mysteries. I wouldn't say it's a waste of time but keep your expectations decidedly low.

…

Expand

This review contains spoilers, click expand to view.

After the first five minutes, this starts to feel like a bad comic book flic. You'd think with millions dollars budget they could've made something reasonably believable with a coherent plot. As it is, the movie is just idiotic, unrealistic, and badly played. The characters are ridiculous from the "good lawyer" to the oddity of the Russian ex-con villain. No character development whatsoever. Crazy predispositions all throughout. And the whole thing ends with the "bad guys" getting together waiting for Tom Cruze to come and get them, pretty much one by one. Yeah, sure...

…

Expand