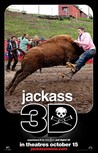 Starring:

Bam Margera

,

Johnny Knoxville

,

Steve-O

Summary:

Johnny Knoxville and his buddies are up to their daredevil comic antics again. And this time they're coming at ya' in 3D. (Paramount Pictures)
Director:

Jeff Tremaine

Genre(s):

Action

,

Comedy

,

Documentary

Rating:

R

Runtime:

94 min
Please enter your birth date to continue:
You are not allowed to view this material at this time.
What's astonishing is that the movie is not a half-baked production. The spectacle now LOOKS spectacular.

It's easily the most painful comedy of the year; in the sadomasochistic world of Knoxville and friends, that isn't criticism so much as high praise.

More than ever, Johnny Knoxville and his boys belong to a very elite club of idiocy. They martyr themselves for our diversion, driven at every moment to ask: Are you not entertained?

Watching Jackass 3-D was like being plunged into a Hieronymous Bosch painting of hell, yet this very reaction attests to the franchise's primal, diabolical power.

Jackass 3D has its moments, but it lacks the ingenuity and hilarity of the previous films - no doubt in large part because of the aging process.

Are any of his stunts funny? Yes, one scene is worthy of Borat and Mack Sennett's Keystone Kops.

Oh, and one more thing the comedy of Jackass 3D has in common with "The Divine Comedy": Neither of them is funny.
Something to go to with friends without much expectation, which is perfectly okay. It was hilarious, me and my friends were laughing

Something to go to with friends without much expectation, which is perfectly okay. It was hilarious, me and my friends were laughing uproariously the entire time. It's definitely not the film for hardcore movie critics unless they're willing to pull the sticks out of their asses and enjoy something for once. It won't win any awards (except maybe in the areas of idiotic comedy) but that's perfectly fine with me.

…

Expand

the people who go and review it on the same level as blockbusters, thrillers or drama's are bigger idiots than they let off. it is what it is,

the people who go and review it on the same level as blockbusters, thrillers or drama's are bigger idiots than they let off. it is what it is, dnt expect it to be any thing else. and for wht it is, it excels.

…

Expand

After you watch this movie you will think "wow that was stupid." Then you will re-think about the amount of times you couldn't stop laughing,

After you watch this movie you will think "wow that was stupid." Then you will re-think about the amount of times you couldn't stop laughing, sometimes to the point where it hurts. That you can't count because you laughed so many times. I read that Jackass was using extremely expensive 3D camera's for this movie. It really shows in the movie. This is the best 3D movie made. Why? Because it doesn't just pop out at you, you feel like your right there, something that not many 3D movies do now a days. On top of that this movie is 100% real. There isn't CGI like Avatar, its just them, and it looks great. You haven't seen anything until you have seen a man get punched in the face from behind with a boxing glove in slo-motion in top notch 3D. I actually give this an 8.5/10 but it gets rounded to a 9.

…

Expand

Just pure fun....what more can you ask for when a film delivers exactly what you seek. You'd think these guys would run out of ideas at some

Just pure fun....what more can you ask for when a film delivers exactly what you seek. You'd think these guys would run out of ideas at some point but while a few of the bits fall flat they always leave me telling stories

…

Expand

Jackass movies never gets old, why? Same genre with new material, returning actors with new reactions, and the same old laughs; but those

Jackass movies never gets old, why? Same genre with new material, returning actors with new reactions, and the same old laughs; but those never go old!

…

Expand

okay its a jackass movie. You know there is going to be stupid stunts and terrible ideas thrown around but these stunts were clever. They

okay its a jackass movie. You know there is going to be stupid stunts and terrible ideas thrown around but these stunts were clever. They actually TRIED to utilize the 3-D and in parts it worked. Good for them to use a movie trend to there sick advantages!! The movie wasn't as moving as usual and seemed to be stalled by talking.

…

Collapse

Passe comedy with the obvious "cash in" motive. No studio should have let these guys receive yet another big paycheck. The only thing it

Passe comedy with the obvious "cash in" motive. No studio should have let these guys receive yet another big paycheck. The only thing it achieves is more publicity for no - talent actors.

…

Expand