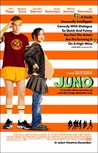 Starring:

Ellen Page

,

Jennifer Garner

,

Michael Cera

Summary:

Juno stars Ellen Page as the title character, a whip-smart teen confronting an unplanned pregnancy by her classmate Bleeker. With the help of her hot best friend, Leah, Juno finds her unborn child a "perfect" set of parents: an affluent suburban couple, Mark and Vanessa, longing to adopt.

Juno stars Ellen Page as the title character, a whip-smart teen confronting an unplanned pregnancy by her classmate Bleeker. With the help of her hot best friend, Leah, Juno finds her unborn child a "perfect" set of parents: an affluent suburban couple, Mark and Vanessa, longing to adopt. Luckily, Juno has the total support of her parents as she faces some tough decisions, flirts with adulthood, and ultimately figures out where she belongs. (Fox Searchlight Pictures)

…

Expand
Director:

Jason Reitman

Genre(s):

Drama

,

Comedy

Rating:

PG-13

Runtime:

96 min
Please enter your birth date to continue:
You are not allowed to view this material at this time.
Hollywood's Woman of the Year is a pregnant 16-year-old, the incredibly hip, smart-mouthed and totally endearing heroine of the wise and witty Juno.

A blithe charmer balanced somewhere between a life-should-be-so-neat fairy tale and a life's-a-real-bitch tragicomedy, leaves political debate at the ticket counter and focuses solely on what it's like for Juno MacGuff to be Juno MacGuff.

With a charismatic lead performance from Page and a plaintive score of indie-rock songs, many of them by Kimya Dawson of the Moldy Peaches, Juno seems poised to be the season's youth-culture hit.

It's a comedy of crisp, mordant wit and quietly radiating warmth, as well as a coming-of-age story with a lovely twist -- you can't always spot the best candidates for maturity.

An ultra-smart-mouthed comedy about a planned adoption that goes weirdly awry.

As with "Sunshine," I'd call Juno a family film if only it didn't make teen pregnancy look so sporting. Instead, we'll settle for that rare bird, an indie comedy that uplifts – funny and smart, totally trying to be cool and succeeding, and heartfelt to boot.

The movie has been hailed and marketed as this year's Little Miss Sunshine, but it has none of that movie's empathy and comic surprise. Too much of it is like a subpar episode of Freaks and Geeks, padded out to 92 minutes with pseudo-witty dialogue.
A non-sterotypical movie, with realistic and appealing characters.

Hated it for a long a** time but I rewatched thrice. Thanks to a friend. Watched it four times. Liked it the 3rd time. Loved it the fourth.

Hated it for a long a** time but I rewatched thrice. Thanks to a friend. Watched it four times. Liked it the 3rd time. Loved it the fourth. Currently its my 5th.

…

Expand

My favorite movie! Ellen Page is the only person who could have done this part. The movie shows how fun life can be, while blending that

My favorite movie! Ellen Page is the only person who could have done this part. The movie shows how fun life can be, while blending that with the up and down rollercoaster of teenage life. I cried when she had the baby because I knewthat even though the baby was not going to be brought up by Juno, that she was still eternally, and forever the baby's mother

…

Expand

Juno is a charmer. I'm not only talking about Ellen Page as Juno MacGuff, but Juno as a whole. It's an intelligent comedy that only comes

Juno is a charmer. I'm not only talking about Ellen Page as Juno MacGuff, but Juno as a whole. It's an intelligent comedy that only comes around every couple of years.

…

Expand

Sweet and funny but flawed. Do we really expect so little of independent film-making that this winds up armed (burdened?) with such critical

Sweet and funny but flawed. Do we really expect so little of independent film-making that this winds up armed (burdened?) with such critical adulation. The performances range from terriffic (read: Alison Janney, Jennifer Garner, Jason Bateman) to even better (J.K. Simmons and Michael Cera - what impecable comedic timing). Ellen Page makes the best of what is - at times - laborious and contrite dialogue. Diablo Cody stumbles and blurs her way across a fine line: the absurdism is uncomfortably saddled with a slightly saccharine, realist moral. Or perhaps...that is the charm

…

Expand

I'm a writer, from Minnesota. And yes, I cam into this movie looking for ANY excuse to crucify the nauseatingly ubiquitous Diablo Cody

I'm a writer, from Minnesota. And yes, I cam into this movie looking for ANY excuse to crucify the nauseatingly ubiquitous Diablo Cody and her INEXPLICABLE ascent. This movie gave me all of the fodder I needed. Predictably contrived, totally flippant, and unusually disingenuous for a comedy this movie is VASTLY inferior to its (male?) counterpart, Knocked Up. Where Knocked Up excelled at unflinching, unremittingly painful pull-free punches towards the establishment subjects in Hollywood comedies this film came across as overly-calculated, wantonly premeditated, and lethargically peudo-precious. Down with Diablo Cody and down with this movie. Sensible, informed cineastes unite! Juno haters unite!

…

Expand

All the hype around Diablo Cody and this movie had me dying to see it. First day - I'm there. Wow. What a disappointment. It is just

All the hype around Diablo Cody and this movie had me dying to see it. First day - I'm there. Wow. What a disappointment. It is just dreadful. The characters all sound the same, none of it is the least bit convincing (not even as a funhouse mirror reflection of reality) and the humor has no snap. Terrible acting and soundtrack. It's just wall to wall bad. I can only assume all the glowing reviews are a byproduct of the feel-good-girl-power-breakout-screenwriter bandwagon. It happens sometimes. Remember how Nia Vardalos was going to take over Hollywood? Sorry... but the emperess has no clothes. Which kind of makes sense... Cody used to be a stripper. Maybe she shouldn't quit her night job.

…

Expand