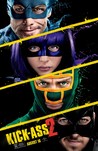 Starring:

Aaron Johnson

,

Chloe Moretz

,

Christopher Mintz-Plasse

,

Jim Carrey

Summary:

After Kick-Ass' insane bravery inspires a new wave of self-made masked crusaders, led by the badass Colonel Stars and Stripes, our hero joins them on patrol. When these amateur superheroes are hunted down by Red Mist -- reborn as The Mother F%&*^r -- only the blade-wielding Hit Girl can

After Kick-Ass' insane bravery inspires a new wave of self-made masked crusaders, led by the badass Colonel Stars and Stripes, our hero joins them on patrol. When these amateur superheroes are hunted down by Red Mist -- reborn as The Mother F%&*^r -- only the blade-wielding Hit Girl can prevent their annihilation. When we last saw junior assassin Hit Girl and young vigilante Kick-Ass, they were trying to live as normal teenagers Mindy and Dave. With graduation looming and uncertain what to do, Dave decides to start the world's first superhero team with Mindy. Unfortunately, when Mindy is busted for sneaking out as Hit Girl, she's forced to retire-leaving her to navigate the terrifying world of high-school mean girls on her own. With no one left to turn to, Dave joins forces with Justice Forever, run by a born-again ex-mobster named Colonel Stars and Stripes. Just as they start to make a real difference on the streets, the world's first super villain, The Mother F%&*^r, assembles his own evil league and puts a plan in motion to make Kick-Ass and Hit Girl pay for what they did to his dad. But there's only one problem with his scheme: If you mess with one member of Justice Forever, you mess with them all.

…

Expand
Director:

Jeff Wadlow

Genre(s):

Action

,

Thriller

,

Comedy

,

Crime

Rating:

R

Runtime:

103 min
Please enter your birth date to continue:
You are not allowed to view this material at this time.
The film delivers almost exactly what fans of the first installment are hoping for.

Tone isn't the movie's sole problem. There's something off-putting about Christopher Mitz-Plasse as the chief bad guy.

A fun if sporadically schizoid return to one of the brighter, brasher comic-bookers of recent years.

That makes Kick Ass 2 more sour than sweet, a movie that jokes about comic book fanboys but stops short of mocking them the way the first film did.

Even with its edges sanded down, Kick-Ass 2 is unmistakably Millaresque — a juvenile comedy of excess, in which skewering adolescent power fantasies looks an awful lot like indulging in them.

Kick-Ass 2 is an uninspired retread. All too often it plays like a Comic-Con gone insane, with costumed do-gooders taking on costumed criminals in gratuitously vicious battles.
This movie is AMAZING!The story is great,the characters are funny and in some points very serious.If you want to have a movie that has ll in

This movie is AMAZING!The story is great,the characters are funny and in some points very serious.If you want to have a movie that has ll in one package,watch this movie.

…

Expand

There are often times where a critics review can prove invaluable and times where the review bears no relation to the movie, the latter is

There are often times where a critics review can prove invaluable and times where the review bears no relation to the movie, the latter is very much the case with Kick Ass 2.
Kick Ass 2 follows directly on from where the last one left off, both in tone and style, and delivers magnificently, the journey for kick ass to find his path in the world is both humorous and painful, and as in the original, there are many sacrifices to be made which gives the film a serious undertone and contrives to dispel the image that a superheroes life is one of glamour and giving the bad guy an easy whooping.
Again, kick ass shows that despite his much improved physique, he is still very much out of his league when it comes to taking on bad guys, but this is the charm of these movies, that the good guy is faced with the ridiculous situation of what to do when faced with criminals, he still has fear, he still takes a beating, but despite this, still believes he can change the world he lives in for the better, this sentiment is glaringly missed by critics who have completely overlooked the films whole take on the superhero genre.
At the end of the day, if you found the first film to be outstanding, then this movie will take you right back there, it will put you back in kick ass' shoes.
If of course you want to know what happen to Hit Girl, then you will not be disappointed, she has a greater role to play in kick ass' development as a character, while riding a very emotional roller coaster and having to make a choice of what world a 15 year old belongs in, but fear not, her skills have been finely honed and she is much more dangerous, but much more impressive teen, she makes Buffy the vampire slayer look like a complete novice, Chloe Moretz's character provides a lot of the over hyped violence seen in the movie with several spectacular set pieces in true Hit Girl style.
I almost took notice of the critics nonsense and stayed away, I am so happy I ignored the drivel they wrote and chose to believe that sequel befitting the original kick ass would be in the offing, I can only assume that many of the magazines/ web sites top critics had taken the day off, leaving the rabble and those keen to make a name for themselves were left in the office on review day, because I can find no fault with this movie on any level.
Lastly, special mention to Jim Carrey, despite his stance on the violence (he had his reasons which many can sympathise), his character was an integral part to kick ass' character arc, flipping the situation that kick ass arrived at and looking it at from a bad guy turned goods perspective, but still showing that no matter what your background, there is a price to pay in standing up and fighting for what's right.
I enjoyed this movie thoroughly, the right blend of comedy and serious undertone right throughout the movie makes kick ass 2 a resoundingly pleasing sequel.

…

Expand

This movie clearly shows, that those "critics" on the left are clueless what the real moviefan wants to see.
This movie was awesome, in myThis movie clearly shows, that those "critics" on the left are clueless what the real moviefan wants to see.
This movie was awesome, in my opinion even better than the first. The switch in the lifes of Kickass becoming a more real hero and Hitgirl trieing to get used to a more normal life is (wich comes a little short tho) is nicely written and entertaining. The final is epic and brutal.
Action: 9
Acting:9
Story:8
Badassfactor:10 (+)
The message at the end is clear and inspiring.
All in one: Just watch that movie if you still havent.

Ps: sorry for the rather bad english. I tried my best to get my opinion out there *G*

…

Expand

I'll start by saying I enjoyed this one more than the first and I was a big fan of the first. The story isn't as strong as the first, but it's

I'll start by saying I enjoyed this one more than the first and I was a big fan of the first. The story isn't as strong as the first, but it's also not bad. The action and humor is even better which wasn't to be expected. Kickass 2 is pure entertainment. If you enjoyed the first then you will love this one. Give it a shot, you won't be disappointed, the critics are wrong on this one (like usual) so don't pay any attention to them. 7.5/10

…

Expand

I enjoyed this movie, but I was also disappointed in it. It was good, acting was great, effects good, story okay, but it just didn't meet the

I enjoyed this movie, but I was also disappointed in it. It was good, acting was great, effects good, story okay, but it just didn't meet the magic of the first one. Where the first one was a completely unexpected anti-hero story, this actually turned out to be mostly cliche and lacking in originality. It felt like what the first Kick Ass would have been had a producer gotten hold of the script before it went to production. Unfortunately, I think that is what happened here.

An enjoyable movie and one worth seeing in the theater, but nowhere near as good as the original.

…

Expand

About midway through Kick-Ass 2, the sequel to 2010's normal-guy-becomes-a-crime-fighter fantasy, a budding archrival corners the new

About midway through Kick-Ass 2, the sequel to 2010's normal-guy-becomes-a-crime-fighter fantasy, a budding archrival corners the new girlfriend of his costumed nemesis. "You're done banging superheroes, baby," he sneers at the terrified teen. "It's time to see what evil dick tastes like." That line, pulled verbatim from Mark Millar's Kick-Ass comic-book series, tells the uninitiated everything they need to know about the franchise's controversy-courting mastermind. A savvy huckster provocateur, blessed with Jerry Bruckheimer's blockbuster instincts and Bret Easton Ellis' gift for pissing people off, Millar has conquered the cape-and-cowl industry by putting "edgy," attention-grabbing spins on superhero mythos. This second adaptation of his flagship title pulls back a little on the showy repugnance of its source material; the unsavory scene described above, for example, ends with a performance-anxiety joke instead of a rape. Yet even with its edges sanded down, Kick-Ass 2 is unmistakably Millaresque—a juvenile comedy of excess, in which skewering adolescent power fantasies looks an awful lot like indulging in them.

As before, the diamond in the rough is Chloë Grace Moretz, reprising the role of foul-mouthed, adolescent vigilante Hit Girl. Determined to honor her father's dying wishes, the orphaned avenger hangs up her mask and blades, turning to face the equally daunting obstacles of high-school. (Her rivalry with the mean girls culminates in a quintessentially Millar money shot.) Left to clean up the streets alone, the titular everyhero (Aaron Taylor-Johnson, bland as ever) falls in with a motley crew of fellow costumed civilians, led by a born-again bruiser (Jim Carrey, on movie-star duty in Nicolas Cage's absence.) On the other end of the good-to-evil divide is Christopher Mintz-Plasse, still hurt about the way Kick-Ass blew his mobster father up with a bazooka. Slipping into black-leather bondage gear, he reinvents himself as the world's first supervillain **** and begins assembling an army of thugs. The film can't seem to decide if his character is a joke or a genuine threat, and that's a pity because there are hints of actual menace in Mintz-Plasse's volcanic hissy fits.

Like most second chapters in comic-book series, Kick-Ass 2 is better than its predecessor, though there was really no place to go but up. New writer-director Jeff Wadlow (Never Back Down) handles the jarring shifts from vulgar banter to Peter Parkerish hand-wringing to blood-spurting carnage no better than Matthew Vaughn did. The tonal schizophrenia extends to the film's world, which is meant to be realistic—note the references to Twitter and viral videos, as well as a focus on the medical consequences of playing hero—but often feels as cartoonishly outsize as Joel Schumacher's Gotham. Building to a deeply underwhelming battle royale, Kick-Ass 2 stumbles every once in a while, as if by accident, into a poignant moment. There's something oddly endearing, for instance, about the scene in which every member of the amateur Justice League runs through his or her traumatic backstory. And then there's Moretz, whose character is suddenly afflicted with the inconvenient emergence of hormonal desire. The actress once again makes the most of her part—though not even Hit Girl could overcome the awfulness of Millar-approved mouthfuls like "I'm gonna go Saudi Arabia on your ass."

…

Expand

Worst, non-superhero EVER!!! Movie about annoying teenagers doing bad,bad tricks, and trying to act like adults, the girls is pretty hot

Worst, non-superhero EVER!!! Movie about annoying teenagers doing bad,bad tricks, and trying to act like adults, the girls is pretty hot tought (I´m 15 lol), still it´s dreadful movie

…

Expand