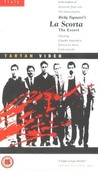 Starring:

Carlo Cecchi

,

Enrico Lo Verso

Summary:

Originally released in 1993, La Scorta is a thriller about a magistrate sent from Northern Italy to clean up the Mafia stronghold of Trapani, Sicily.
Director:

Ricky Tognazzi

Genre(s):

Drama

,

Thriller

,

Crime

Runtime:

92 min
Hits the ground running and never backs off until an ending that is disappointingly diffuse. (Review of Original Release)

Ricky Tognazzi's La Scorta topped the Italian box office charts for weeks, thanks to its skill in capturing the country's current political climate in an entertaining action film format. (Review of Original Release)

But exciting as La Scorta might be, it is at heart a conventional thriller that breaks no new genre ground.

Ultimately, La Scorta is a tight, competent but rather inconsequential thriller. It's diverting, but thin. (Review of Original Release)

Tognazzi's use of public spaces, streets, and offices is three-dimensional and exciting in a Michael Mann–ish way, and Ennio Morricone's all-bass-register piano score keeps things nervous. But La Scorta suffers from an anemic plot pulse-you could say the judge's bodyguards did their job too well, because nothing much happens-and the anticlimax is as dull as it is pessimistic.
The descriptions calling thisfilm "entertaiining, conventional, tight, competent, diverting but inconsequential" are all correct. But if you

like Italian culture, and films like "Best of Friends", you will enjoy this film. Somehow I find the characters in films like this to be much more affecting than in equivalent American films. The relationships seem much less contrived.

…

Expand