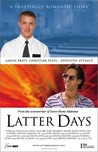 Starring:

Amber Benson

,

Jacqueline Bisset

,

Mary Kay Place

,

Steve Sandvoss

,

Wes Ramsey

Summary:

Christian (Ramsey), a hunky, 20-something, West Hollywood party boy gets more than he bargains for when he tries to seduce 19-year-old Elder Aaron Davis (Sandvoss), a sexually confused Mormon missionary who moves into his apartment complex. (TLA Releasing)
Director:

C. Jay Cox

Genre(s):

Drama

,

Comedy

,

Romance

Rating:

Unrated

Runtime:

107 min
Please enter your birth date to continue:
You are not allowed to view this material at this time.
Works in the end because of its commitment to its characters and a handful of fine performances.

Although the rest of the story plays out with melodramatic predictability, it's timely, not to mention refreshing, to see an affirmation of true love over hot sex, along with a reminder that the two aren't necessarily mutually exclusive.

One of the sly pleasures of Latter Days is the sight of this gay-themed movie recycling so many conventions from straight romantic cinema, as if it's time to catch up.

The screenplay is schizoid. The first half is figuratively brassy, but then the violins begin to soar.

This directorial debut from C. Jay Cox is a sometimes comic melodrama.

An odd mix itself, of contemporary sexual realism and unabashed romantic fantasy. If "Days" works, it's mostly on a sheer fantasy level.

Stranding an able supporting cast in mostly disposable roles--including Jacqueline Bisset, Mary Kay Place, Joseph Gordon-Levitt, and Amber Benson--Cox writes himself into several corners, then plots honking contrivances to get out of them.
Gave it a10:this movie is a very special for me.i like the story also happy ending.

This movie is amazing It is my life on film I grew up Morman(due to my grandma) yet in a gay family (my mother) I am very religous and almost

This movie is amazing It is my life on film I grew up Morman(due to my grandma) yet in a gay family (my mother) I am very religous and almost went on a mission but this movie put a stop to the hell i was putting myself through and convinced me that being gay was who i am much like the character of aaron. this is my favorite movie to date.

…

Expand

This movie was the best movie ever. If there has ever been a movie that expressed everything I've felt and experienced in my life this

This movie was the best movie ever. If there has ever been a movie that expressed everything I've felt and experienced in my life this movie has definitely captured those emotions.

…

Expand

This film is a milestone... not on sound, neither on light but on scenerio, this film shows new horizons about gay films... an impressive

This film is a milestone... not on sound, neither on light but on scenerio, this film shows new horizons about gay films... an impressive definition of gaylife in religious societies is achieved. love can get over all difficulties by patience and passion.

…

Expand

This charming film treats all of it's characters with respect. It's pure Hollywood formula but a tearjerker and in the end redemptive.

This movie was excellant. I think it shows good acting, the characters are real and the story line in believable.

Enjoyable, but uneven, story of white gay love and the conflict between personal and institutional belief. Some of the acting is great, some

Enjoyable, but uneven, story of white gay love and the conflict between personal and institutional belief. Some of the acting is great, some of it is horrible. The characters are written as stereotypes rather than with depth, but the story is still enjoyable.

…

Expand