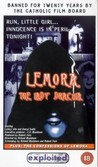 Summary:

The 1973 horror classic about an innocent Christian girl who is lured into the world of a sultry lesbian vampire.
This cult chestnut is more intelligent, scary, humorous and effective than hyped recent genre efforts by Coppola, Jordan and Carpenter.

Too priggish to earn a place alongside its better-known contemporaries "The Texas Chainsaw Massacre" and "Last House on the Left," Lemora is nevertheless surprisingly well made.

This underrrated shocker has developed a cult following since its scattershot 1973 release, but deserves a wider one.

The film falls far short of its goals, but it is a classic of sorts. It belongs in that Blockbuster on Mount Olympus, where pristine new copies of "I Changed My Sex," "Dracula's Dog," "Blackenstein" and "Battlefield Earth" play constantly.