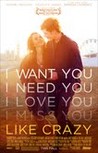 Summary:

A love story is both a physical and emotional tale, one that can be deeply personal and heartbreaking for an audience to experience. Director Drake Doremus' film Like Crazy beautifully illustrates how your first real love is as thrilling and blissful as it is devastating. When a British

A love story is both a physical and emotional tale, one that can be deeply personal and heartbreaking for an audience to experience. Director Drake Doremus' film Like Crazy beautifully illustrates how your first real love is as thrilling and blissful as it is devastating. When a British college student falls for her American classmate they embark on a passionate and life-changing journey only to be separated when she violates the terms of her visa.Like Crazy explores how a couple faces the real challenges of being together and of being apart. Winner of the Grand Jury Prize for Best Picture at the 2011 Sundance Film Festival and of the Special Jury Prize for Best Actress for Felicity Jones, Like Crazy depicts both the hopefulness and the heartbreak of love. (Paramount Vantage)

…

Expand
Director:

Drake Doremus

Genre(s):

Drama

,

Romance

Rating:

PG-13

Runtime:

90 min
Please enter your birth date to continue:
You are not allowed to view this material at this time.
The actors keep their clothes on, but everything else is naked in Like Crazy, a romantic drama that makes other romantic films look obvious and calculated in comparison.

An exquisite, beautifully acted gem of a film, one that should serve as a prelude to bigger things for stars Felicity Jones and Anton Yelchin, as well as director Drake Doremus.

In Sundance terms, Like Crazy qualifies as this year's "Blue Valentine," but it's more observational about the details of a doomed relationship than relentlessly bleak like the aforementioned Derek Cianfrance movie.

Like Crazy is a well-made film. The scenes showing Jacob and Anna falling in love have a freshness, and I learn Doremus handed his actors an outline and together they improvised every scene. Some of the whispered endearments under the sheets are delightful.

Like Crazy has a lively syntax and could, in an ungrateful mood, be tagged as slick. But Doremus gets the tempos right.

Although Like Crazy contains some emotionally on-target scenes, the movie as a whole feels glum and artificial. The characters, especially the male lead, are so low key that they're frustrating to watch.

A surprising follow-up to Doremus' low-fi but equally concept-driven 2010 Sundance feature "Douchebag," Like Crazy has appealing performances, a notable tone of realism in the acting and so many borrowed mannerisms from better or more interesting films it feels like a YouTube mash-up made by a Wes Anderson junkie who's studying Sophia Coppola movies while writing a term paper on "Garden State."
Agreed that Anton Yelchin was excellent in Like Crazy but if you want to see a really breakout performance by him you should watch The Beaver

Agreed that Anton Yelchin was excellent in Like Crazy but if you want to see a really breakout performance by him you should watch The Beaver in which he plays Mel Gibson's son. http://www.youtube.com/watch?v=9lBGKKhx2Lo

…

Expand

OMG! I love this pretty movie is really emotive, have interesting things. The trama can be a cliche, and we can think: other terrible romantic

OMG! I love this pretty movie is really emotive, have interesting things. The trama can be a cliche, and we can think: other terrible romantic movie But oh sorprise Like Crazy is really pretty. The story is really amazing, my boyfriend hate all this type of movies, but when we watch Like Crazy, he think that the movie is a epic movie of the romantic films. Is incredible watching that some romantic films do a great job, because this genre be same, since Twilight saga started, but Like Crazy is fresh, and amazing. The cast, is wow, awesome, Anton Yelchin, Jennifer Lawrence, and this other girl that I don't remember her name, the performances are incredible. The screenplay is interesting, have much intelligent situation and do an interesting job. Like Crazy is interesting, emotive and pretty I love this movie.

…

Expand

The performances by its two leads are wonderful, Felicity Jones is absolutely luminous. A love story with a dose of melancholy that is

The performances by its two leads are wonderful, Felicity Jones is absolutely luminous. A love story with a dose of melancholy that is uniquely and beautifully shot. I adored every aspect of this film.

…

Expand

The film does a really good job of illustrating the pain and raw nerves that can be exposed with young love - especially when complicated by

The film does a really good job of illustrating the pain and raw nerves that can be exposed with young love - especially when complicated by distance. My primary problem with the film is Jacob (Anton Yelchin) - he looks like he's loaded for about 80% of the film, and it's difficult for me to believe Anna (Felicity Jones), who seems to have her stuff together, would go for him in the first place. But again, they're young, and we don't always get to pick that person. I really like how the writer/director artfully skip huge chunks of cliche'd story that other movies have dealt with ad nauseum. The type of ending employed seems to be in fashion these days. I don't have an issue with it, but I'm sure many probably do. It seems Felicity Jones will be in the biz for the long haul - recently caught her in Chalet girl. Seems like a good choice for future films of this ilk.

…

Expand

A pretty nice emotionally engaging story, good filming. The actors are decent too, so if you are in the right mood to watch a melodramatic

A pretty nice emotionally engaging story, good filming. The actors are decent too, so if you are in the right mood to watch a melodramatic movie, check this one.

…

Expand

Anton Yelchin plays an American college student who falls for British Felicity Jones. When she violates here visa, they're forced into a

Anton Yelchin plays an American college student who falls for British Felicity Jones. When she violates here visa, they're forced into a strained long-distance relationship. Most of the time is spent with the duo and they do manage to create a compelling couple. The movie is not particularly original and the dialogue, which is mostly adlibbed, feels talky and unfocused. If you're looking for a sweet and sour love story, you might enjoy this quickly-forgettable film.

…

Expand

I'm getting to the gist of it. It was a horrible movie that just wouldn't end and when it did it was like a big giant middle finger. The

I'm getting to the gist of it. It was a horrible movie that just wouldn't end and when it did it was like a big giant middle finger. The first 30 minutes was beautiful and then it became a repetitive cycle of awkward, stupid, and mind numbing. This movie was anything but awe-inspiring. If you decide to watch it despite warnings at least buy a big bucket of popcorn... you'll need it.

…

Expand