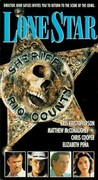 Starring:

Chris Cooper

,

Elizabeth Peña

Summary:

The unearthing of human bones and a rusty sheriff's badge on a rifle range in a Texas border town resurrects painful memories for a young lawman (Cooper), drawing him into an intricate, fascingatingly woven web of ethical, familial, and intercultural conflicts.
Director:

John Sayles

Genre(s):

Drama

,

Mystery

,

Romance

,

Western

Rating:

TV-MA

Runtime:

135 min
The performances are uncommonly fine...Lone Star isn't built to ride trends. It's built to last.

This film is a wonder - the best work yet by one of our most original and independent filmmakers - and after it is over, and you begin to think about it, its meanings begin to flower.

Even one-scene characters are unforgettable, but Sayles really gets under the skin of his struggling-to-be-heroic leads, Sam and Pilar. Long after this summer's crop of action flicks is gone, you'll watch this for the third or fourth time and see fresh material. Outstanding.

The biggest problem with Lone Star is that colorful Charley Wade isn't the center of the movie -- it's bland Sam Deeds. Cooper isn't a compelling enough movie star to carry us along some of the film's more languid twists and turns.

The film stumbles a bit towards the end (some deeply rooted conflicts are implausibly resolved), but terrific performances from a large cast -- particularly Elizabeth Pena as Sam's childhood sweetheart -- smooth over the rough spots.

While I was watching "Lone Star," I realized that what makes Sayles a good and socially responsible person - his ability to look at one thing a hundred different ways - is exactly what makes him a muddy filmmaker.

Sayles speaks the language of cinematic formula so automatically -- his reunited lovers slow dance to a jukebox in a dark, deserted cafe and wait unannounced outside each other's workplaces when they want to talk -- that he's forgotten that real people don't do this stuff.
It´s a beautilful film, I recommend!!!! Several stories and also flashback. Actors are very good. I had a good time.

If anything I found this one a little too complex; there were several threads that seemed totally unrelated to the main thrust of the story.

If anything I found this one a little too complex; there were several threads that seemed totally unrelated to the main thrust of the story. It's also, I felt, a little too long; the filmmakers are asking quite a lot for an audience to concentrate for two hours and fifteen minutes. It is slow paced, but I didn't particularly mind that; I'm used to the noir style and it is usually quite a slow burner. Some great performances with Chris Cooper coping well with the leading role and Kris Kristofferson playing the villain of the peace with gusto. Also we have Elizabeth Peña, who did an excellent job as the female lead and a small part for Matthew McConaughey as Buddy Deeds. Although it does have its problems I still found it an excellent watch; definitely one to look out for for all you noir fans out there.

SteelMonster's verdict: RECOMMENDED

My score: 7.5/10.

…

Collapse