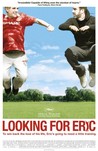 Summary:

Cannes crowd-pleaser Looking for Eric is a tender, life-affirming, and hilarious nod to the possibility of second chances. When down-and-out postal worker Eric Bishop reaches the end of his rope - his two layabout stepsons are set on driving him to an early grave, his second marriage is in

Cannes crowd-pleaser Looking for Eric is a tender, life-affirming, and hilarious nod to the possibility of second chances. When down-and-out postal worker Eric Bishop reaches the end of his rope - his two layabout stepsons are set on driving him to an early grave, his second marriage is in ruins, and that's just the start of his troubles - he finds some unexpected motivation to turn his life around and win back the love of his life from none other than his idol, the legendary footballer Eric Cantona of Manchester United. (IFC Films)

…

Expand
Director:

Ken Loach

Genre(s):

Drama

,

Sport

,

Fantasy

,

Comedy

Runtime:

116 min
Please enter your birth date to continue:
You are not allowed to view this material at this time.
Very funny and a bit sentimental, it's naturalistic comedy of the highest order, with Evets and Henshaw standouts among a terrific cast.

A daring and unstable mélange of styles--working-class realism, deadpan fantasy, shameless buffoonery. At times it falls flat, or fails to rise. More often than not, though, it's a heartbreaker.

Veteran British director Ken Loach fields one of his most accessible and lightly-toned offerings to date with this comedy about a football fanatic trying to sort out his life.

Along the way, Looking for Eric emerges as a portrait of a world and a way of life. You will probably not want to live in Manchester after seeing this film, but you'll like and respect the people.

As in many of Laverty's scripts, problems of overall tone and character development aren't solved by Loach's easygoing direction, though when it works, "Eric" has many incidental pleasures.

iI's a film more content to amuse than truly to probe or feel.

The British director Ken Loach can be a master of working-class realism, but not in this cranky, rudderless shambles.
This is a wonderful film. You don't have to be a Ken Loach fan to enjoy it. Loach, who has made a long and varied cache of usually trenchant

This is a wonderful film. You don't have to be a Ken Loach fan to enjoy it. Loach, who has made a long and varied cache of usually trenchant portraits of British working class life, with sidetrips to the Spanish Civil War, janitor organizing in America, and the pain of the Irish Rebellion circa WWI, departs here with a serio-comedic approach that should expose him to new fans. I watched with someone who never heard of him, and is usually drawn to more popular entertainments, and they loved it. Stick with it through the early slow going.

…

Expand

To keep both sports fans and cinema lovers interested during a sports drama film can't be easy but this is well achieved by director Ken Loach

To keep both sports fans and cinema lovers interested during a sports drama film can't be easy but this is well achieved by director Ken Loach in this poignant and interesting British realism film. Cantona is exactly where he wants to be and thrives off of, a vision,a god of the other Eric's imagination. The scene nearing the end of 100+ Eric's marching towards a house is both strange and yet real at the same time. This film is unlikely to reduce Cantona's large ego, but maybe thats just what the public want. Football on the big screen isn't too bad after all.

…

Expand

Una especie de versión pambolera de Sueños de un Seductor (Ross, 1972). El fracasado cartero Eric Bishop (Steve

Una especie de versión pambolera de Sueños de un Seductor (Ross, 1972). El fracasado cartero Eric Bishop (Steve Evets) se imagina la presencia contantes del centro-delantero del Manchester United Eric Cantona (lui-même, como dicen los créditos finales), quien funge como su consejero/entrenador físico/existencial. Una encantadora fábula de un Loach de muy buen humor.

…

Expand